BAKERSFIELD, Calif. — Hockey scouts see the negatives first. Because no matter how many positives there are, one giant flaw can negate everything.
So, when you ask a long-time scout about Tyler Benson — the one Bakersfield forward with a chance to truly impact the Edmonton Oilers roster as soon as next season — and he looks over his glasses at you and says, "Do you think he can skate well enough to play in the NHL?"
What he's really saying is, he doesn't think Benson can.
The Oilers are too slow, especially among their forwards. But they're desperately shy on high pedigree wingers. Benson is special, but his skating is not.
He's heard it all before. Although he'll remind you: he may be 21, but all that time he missed to injury makes him more like 18 or 19 when it comes to his development.
"Those two years I missed, it hurt my speed. If I can keep doing what I do in the summer, keep getting stronger, and I'll keep getting faster," he promises.
Of course, Benson believes in himself. But what bodes well is the belief those who play with him in the American Hockey League have in the player.
And, of course, his constant, consistent production — a resounding example coming in double overtime on Saturday night, when he helped to save the Condors' season with a perfect pass to Josh Currie on the winner.
"The plays he makes, the vision he has … You can't teach that. You're born with that stuff, and he has it," Currie said. "I don't think most people realize how hard it is to produce in this league. For a guy to come up here (from junior) and be almost a point per game? That, to me, is incredible. I don't think he gets enough credit on that."
So, here's the deal on Benson: an Edmonton kid who went from seeking Exceptional Player status as a bantam to a second-round draft pick after a series of (mostly) weird injuries cost him months and months of developmental time. He has NHL vision, and can pass the puck on an NHL level. That is why, in his first season of pro hockey with Bakersfield, he finished second in AHL rookie scoring with 15-51-66 in 68 games. That is two points behind a player who played six more games than Benson did.
"Everyone goes to the obvious: his passing skills," begins his coach, Jay Woodcroft. "And he can pass the puck in ways that most players cannot. He can pass it inside his equipment (mimics pulling the puck tight to his skates and making a pass). He can pass on his backhand as well as his forehand. There is a vision about him, because he plays one or two steps ahead of most players.
"What he doesn't get credit for is his competitiveness and his bite. Or for the subtleties in his game. His board work. His willingness to get dirty to find success."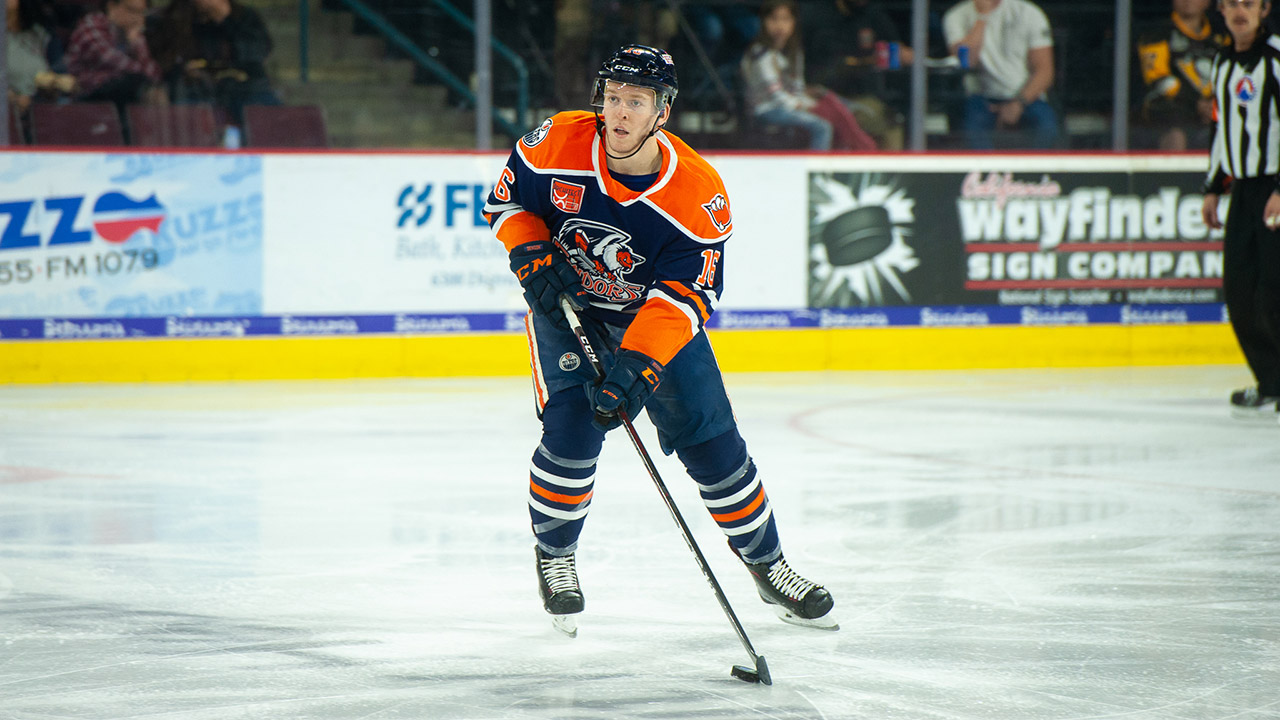 We asked Currie what it is about Benson's game that fans wouldn't see. But players do.
"Some guys, when they come out of the battle, they take a second to look and see where (their teammates) are. But he just knows where I'm going to be; he just knows where the open guy is," Currie said. "You just can't teach it. His work down low really separates him, and then being able to find that guy in a split second … It's incredible."
None of that translates at the NHL level, however, if you're not quick enough to get to that puck down low ahead of the defenceman. You can't win a board battle that you show up late for, right?
Oilers history is full of Bill McDonalds, Dan Curries and Anton Landers, who mastered the American Hockey League but were missing an ingredient required to help at the NHL level. Benson is confident he'll catch up in his development, and he'll be a player.
"I think there is a lot of room for me to improve," he said. "Last summer was the first summer I was able to train in three years. That was a lot of workouts missed. There is lots of room for improvement for me."
He feels "one hundred per cent now. I feel great out there on the ice," and he'll spend the summer with the Oilers skating guru, David Pelletier.
Ask anyone down here and they have no doubt that Benson will be an NHL player.
"I don't think he's anywhere near his ceiling," Woodcroft said. "For me, while he's missed some prime years of development, now he's going through exactly what young players need to go through in the playoffs. In a man's league. Against a tough opponent. In the month of May.
"While he missed some prime time in his personal development, he's in a great spot where he's at right now."
And so are his linemates, as Currie would attest.