What makes for a great NHL backup? Judging by this list of the best ones in the game today, it could really be either youth or experience. There's really no rhyme or reason to the job, although it's safe to say that if you've got a Vezina Trophy win notched on your belt, like the No. 1-ranked goalie on the list, you should be okay.
Taking into account stats, careers up to
now and overall potential, here are the top five backups in the NHL:
5. Thatcher Demko (Vancouver Canucks)

Vancouver Canucks goalie Thatcher Demko may
not be on this list very long. It isn't because the signs point to him
stumbling, though. Just the opposite.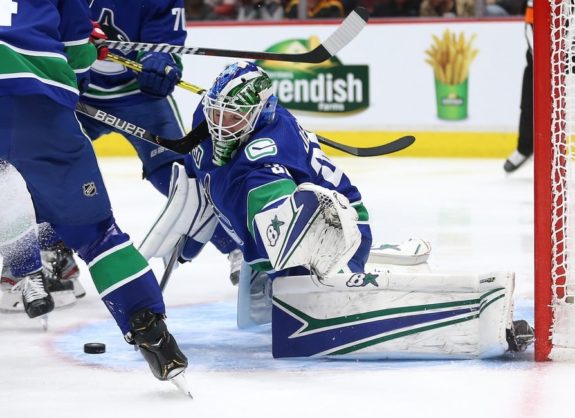 Demko's been very good, with an overall .918 save percentage spanning three seasons of work in relief for the Canucks. However, the soon-to-be 24-year-old has taken his game to a new level this season with a 4-1 record, 1.78 goals-against average and .938 save percentage. Incumbent-starter Jacob Markstrom continues to play well, himself. However, he's a pending unrestricted free agent, prompting the logical question: How long can they continue to hold Demko back?
Markstrom's technically got the higher
draft pedigree as a 31st-overall pick (2008). However, Demko, who was selected
at No. 36 in 2014, seems to be on the verge of usurping Markstrom's rightful
claim to the starter's role, if he hasn't already.
4. Tristan Jarry (Pittsburgh Penguins)
Pittsburgh Penguins goalie Tristan Jarry
has made general manager Jim Rutherford look like a genius. His predecessor as
Matt Murray's backup, Casey DeSmith, was coming off a great season himself.
Nevertheless, Rutherford opted to send DeSmith down out of training camp
instead of exposing Jarry to waivers.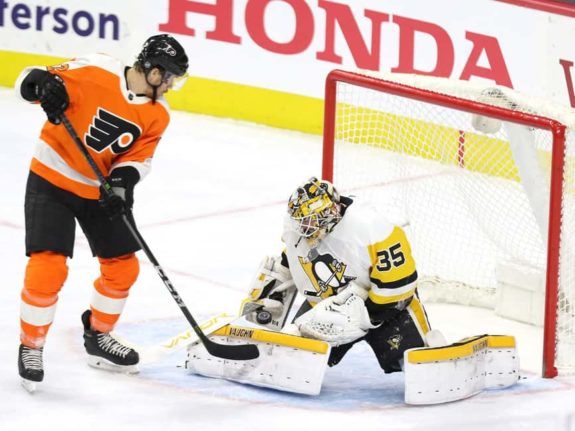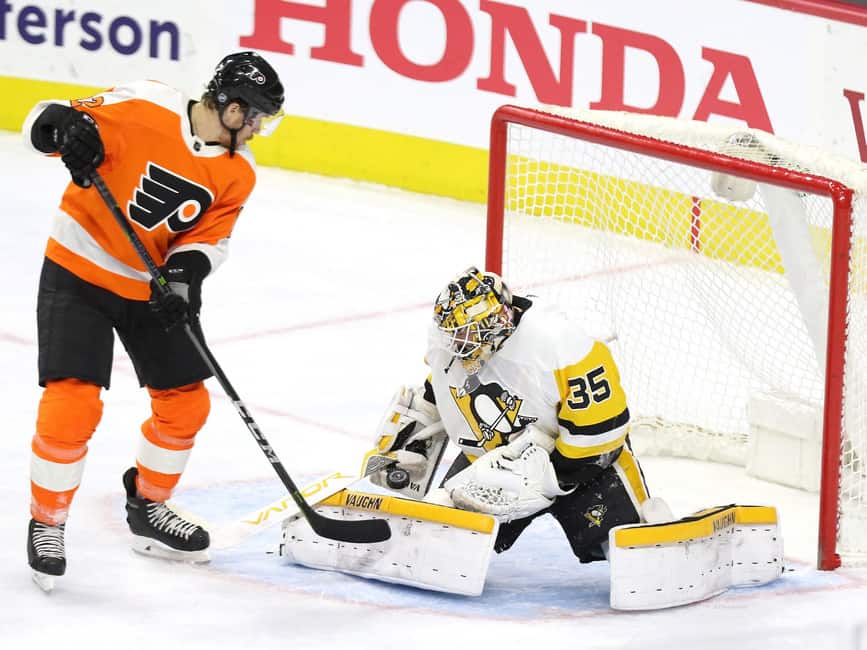 The decision to go with Jarry could have been seen as risky, considering DeSmith was much more of a known variable. However, all Jarry has done in response? Justify Rutherford's faith in him. His 1-3 record leaves something to be desired, but the 24-year-old, in whom the Penguins have high hopes, does have a 2.26 GAA and .929 save percentage.
Jarry has bounced around the organization since
2016-17, getting games in with the Penguins and their American Hockey League
affiliate each season since then. He should be here to stay at this point.
3. Jaroslav Halak (Boston Bruins)
It was only recently that Jaroslav Halak was stuck in the minors in the New York Islanders organization. He's obviously resurrected his career in a big way with the Boston Bruins to the point that last season he played 40 games for them, blurring the lines between being a joint No. 1 and the backup to Tuukka Rask.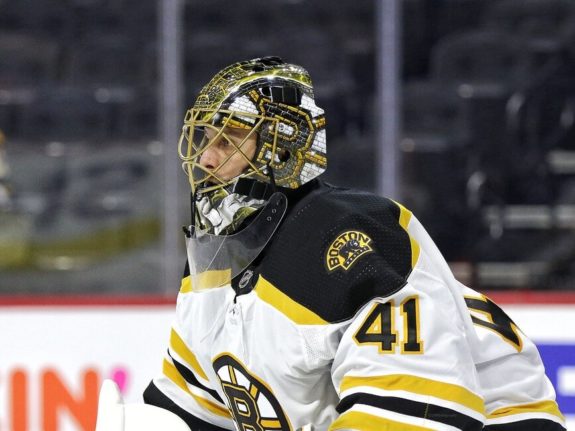 While Rask has regained the crease on a
seemingly permanent basis, it's not because Halak has faltered. Rask's been
otherworldly with a 9-7-1 record, 1.88 GAA and .936 save percentage. Halak's
been just elite, unfortunately for him.
At least his 4-1-1 record, 2.83 GAA and .917 save percentage are proof he belongs in the NHL. It may just be as a backup, but he'll probably take it and his $2.75 million cap hit, the highest of anyone on this list. He's earned it, though.
2. Anton Khudobin (Dallas Stars)
The man nicknamed Dobby, Anton Khudobin, continues to work some magic as Ben Bishop's backup. He may be 33 years old, but he's clearly got a lot left in the tank.  Here's hoping he doesn't have anywhere new to travel to, though.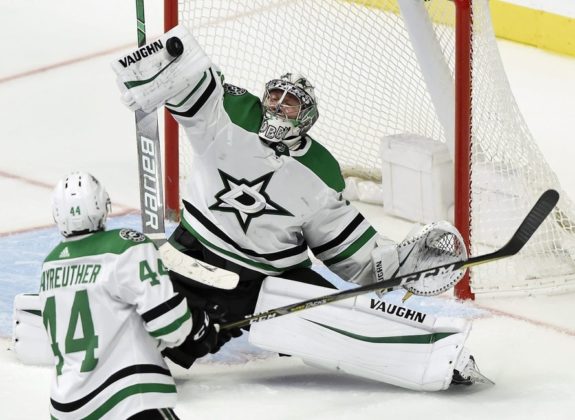 It's his second season in the role, but
Khudobin's been in the position before. He's actually served a total of five
separate two-season stints for five different teams as their backup (twice for
the Bruins). Maybe now's the time the pending unrestricted free agent gets a
longer look.
Last season, Khudobin went 16-17-5 with a
2.57 GAA and .923 save percentage. He's 3-3 with a 2.33 GAA and .919 save
percentage so far in 2019-20. The not-so-big "D," who's 5-foot-11 for the
record, has still proven himself time and again with a .917 career mark. In
other words, he knows what he's doing.
1. Ryan Miller (Anaheim Ducks)
Anaheim Ducks goalie John Gibson is widely considered one of the best goalies on the planet, if not the outright best. So, if his backup, veteran Ryan Miller, is putting up better numbers than his, which are already elite, well it stands to reason Miller deserves some accolades of his own. Namely the right to hold on to the title of best backup in the NHL.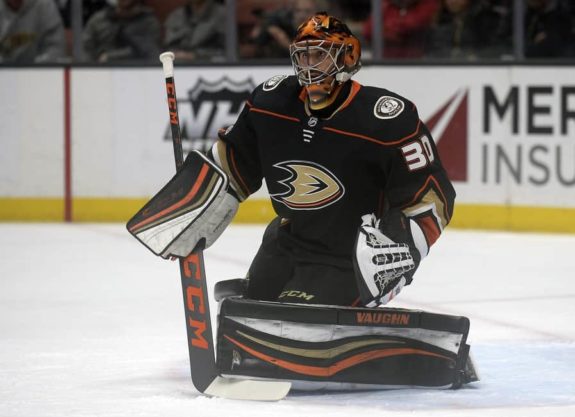 Keep in mind that it's still early this
season. However, Miller, who has a 3-0-1 record with a 2.30 GAA and .926 save
percentage, has consistently wowed since taking on more of a limited role when
he first joined the Ducks in 2017-18. For example, Gibson is "only" 6-7 with a
2.55 GAA and .923 save percentage.
Miller is now 39, but the reduced workload
relative to his days as a starter can only extend his career from this point
forward. He knows how to win, as his Vezina Trophy (2010) proves. One more
reason he can hold bragging rights over Gibson, at least for the time being.