Some folks claim that one of the key's to life is having things to look forward, too. Hockey fans now have some clarity, and plenty to look forward to as the NHL and the NHLPA have agreed on details for a 2020-21 season. A breakdown of each division can be seen below, but Detroit Red Wings fans should focus upon the temporary Central Division that includes the Carolina Hurricanes, Chicago Blackhawks, Columbus Blue Jackets, Dallas Stars, Red Wings, Florida Panthers, Nashville Predators, and Tampa Bay Lightning. Today's task — project where Detroit will finish.
Before trying to predict the final standings of this newly formed division, it is worth making note of some scheduling details. Firstly, the season will begin Jan. 13 and will be a 56-game schedule. This also means that every team will play divisional opponents eight times and the top four teams will qualify for the playoffs.
Looking at the Central Division, it is a tough grouping with at least three top-tier NHL teams. Then again, every division is difficult and that parity is what makes the NHL such a great league. The Red Wings will be a much more competitive team in 2020-21, but this will not be the season they return to playoffs. Lastly, this division reignites a historic Original Six rivalry between the Red Wings and Blackhawks. Unfortunately, I am projecting that these two teams will also be battling for this division's basement.
Without further adieu — here is how I project the Central Division to finish:
(1) Tampa Bay Lightning

The current Stanley Cup champion Tampa Bay Lightning should have no trouble picking up where they left off in Edmonton this past summer. This team has everything needed to win — a young/talented starting goaltender in Andrei Vasilevskiy, a very solid defensive core led by Victor Hedman, and a deep group of offensive weapons.
The Lightning still have two restricted free agents yet to sign as 23-year-olds Erik Cernak (D) and Anthony Cirelli (C) remain unsigned. How they navigate those contracts with zero cap space available is still to be determined. Lightning general manager Julien BriseBois and his staff will quickly need to figure those deals out to avoid losing either player. It would be highly unfortunate to let either player slip away, but even without those two this is another Stanley Cup contending team.
(2) Carolina Hurricanes
This might surprise some, but I like the make-up of this team. The Carolina Hurricanes finished the shortened season with a record of 38-25-5 in 68 games — good for 81 points. The Hurricanes have a good (not great) tandem in net, as well as a big and rugged defensive unit bolstered by some young high-end forwards led by Sebastian Aho, Teuvo Teräväinen, and Andrei Svechnikov. Under the guidance of head coach Rod Brind'Amour, this team has the feel of one that is on the verge of bigger accomplishments.
An upcoming question for Carolina might be what happens in the crease after this shortened season. Both James Reimer and Petr Mrázek will become unrestricted free agents. For the time being, that should create a healthy battle in the crease, which will be especially important with a more condensed schedule.
(3) Dallas Stars
From what I understand, the regular season after losing in the Stanley Cup Final can seem like an eternity. Most players just want to get back to that final series as quickly as possible. However, that usually means a few more early stumbles and hence why the Dallas Stars have been placed in the third spot within the Central Division.
Last season, the Stars finished with a record of 37-24-8 for a total of 82 points over 69 games. Although they have a world class youngster in Miro Heiskanen, this is an aging team, and the championship window is slowly closing. I could see this team playing just to get into the playoffs and then kicking their game into high gear accordingly.
One thing is clear — any lingering animosity from last year's Stanley Cup Final will get hashed out over eight regular season contests!
(4) Columbus Blue Jackets
The Columbus Blue Jackets quietly accumulated 81 points last season with a record of 33 wins, 22 losses and league-high 15 overtime defeats. One could argue that record is indicative of the Blue Jackets blueprint — play a defensive, tight-checking, and low-scoring affair. They have a strong tandem with European goaltenders Elvis Merzlikins and Joonas Korpisalo. Both goalies were Columbus draft picks that developed in Europe before they made the NHL jump. 
Another reason why head coach John Tortorella leans toward a defensive style is his top two defenders — Seth Jones and Zach Werenski. Both are young studs capable of logging valuable and productive minutes. Columbus added Max Domi to bolster the offensive core, and the team soon hopes to reach an agreement with Pierre-Luc Dubois who remains an unsigned restricted free agent. With just shy of $10 million in cap space and the season now a go, it will likely not be long before they sign big Dubois. Do the Blue Jackets have any other moves up their sleeve?
(5) Florida Panthers
The Florida Panthers are another team with significant cap room heading into the 2020-21 season. They still have $6.6 million after recently signing Anthony Duclair to a one-year, $1.7 million contract. Last season, Florida finished with 78 points after recording 35 wins, 26 losses, and eight overtime losses.
One player that will need to have a better start and overall season is Panthers goaltender Sergei Bobrovsky. After signing a seven-year, $70 million contract in July of 2019 he stumbled out of the gate and had to salvage a .900 save percentage (SV%). His goals against average (GAA) was also not great finishing at 3.23.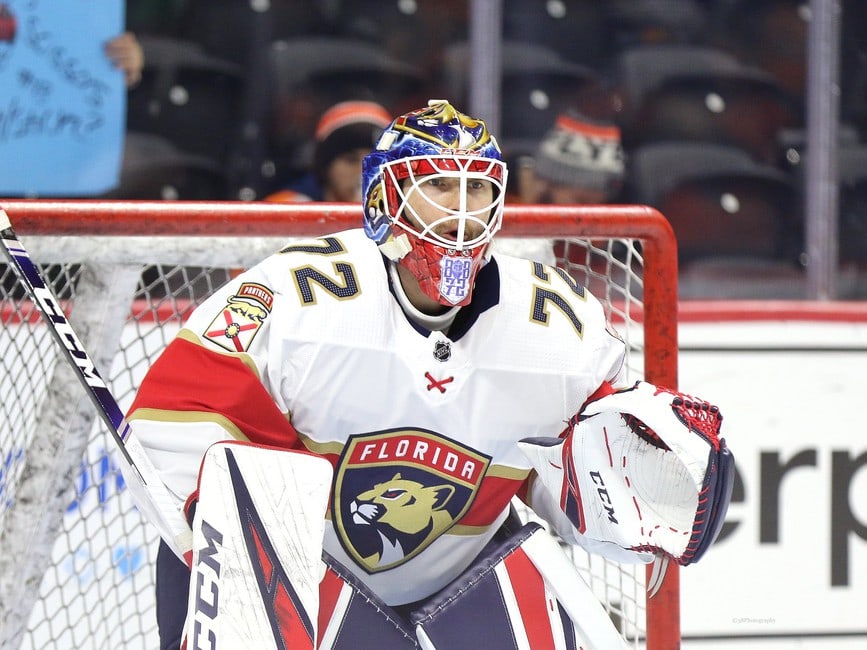 Nothing seemed quite right last season in Florida, but they still have a lot of great pieces that will help them push for a playoff position. It could be a close race, but I prefer Columbus defensively over the Panthers and think that will make the difference.
(6) Nashville Predators
Despite team captain Roman Josi winning his first Norris Trophy, the Nashville Predators were an average team last season. They finished with 78 points having won 35 games, suffering 26 losses and eight overtime defeats in 2019-20.
Perhaps the team's biggest shortcoming was, surprise surprise, in goal. Starting goaltender Pekka Rinne had a wildly inconsistent season with career worst numbers in GAA with 3.17 and an .895 SV% over 36 games. At age 38, he will be hard pressed to prove he can still be a starting goaltender at the NHL level. Fortunately for the Predators, should Rinne falter he becomes an unrestricted free agent after the 2020-21 season. The 25-year-old backup Juuse Saros might be capable of becoming the starting goaltender, but at 5-foot-11 he is definitely an exception in today's NHL.
Nashville is a team with some talented forwards, but they lack overall depth up front. As it stands, they have nine signed roster forwards for the 2020-21 season. With $12 million in cap space, they are one team that could immediately slide up the standings depending on any significant additions they are able to make. The top remaining unrestricted free agent Mike Hoffman, has been connected to both the Predators and Blue Jackets as a potential landing spot. Stay tuned on that contract as Hoffman could make a bit of a splash within this division.
(7) Detroit Red Wings
As noted, the Red Wings should be a much-improved team in 2020-21. After a 49-loss season, they should now hope to make strides in the win column. The offseason addition of Thomas Greiss should help strengthen the crease making a good tandem partner for Jonathan Bernier.
The blue line is perhaps the biggest step forward as the team added veteran Marc Staal along with Jon Merrill, and Troy Stecher this offseason. A healthy and more productive Danny DeKeyser will also be a big factor in the team's overall success. Many Red Wings fans are also excited to see the sixth-overall pick from 2019, Moritz Seider, patrol the Red Wing blue line this upcoming season. Time will tell if he is ready to make that jump but it should not be long now.
The Red Wings also made some improvements up front by signing veteran Bobby Ryan as well as 28-year-old Vladislav Namestnikov. They also have just shy of $10 million in cap room to spend as general manager Steve Yzerman sees fit. Most would agree that the organizational legend, Yzerman has this team headed in the right direction. A move out of the basement would be a great start.
(8) Chicago Blackhawks
Detroit's historical rival the Chicago Blackhawks appear to be a team heading in the opposite direction. In fact, the team has already made an announcement to fans that they intend to "re-build" the team properly. (from 'Blackhawks' letter to fans details rebuilding plans, begins new era of open communication,' Chicago Sun-Times, 10/20/2020) This took some surprise, especially after a season where they managed 32 wins, 30 losses and eight extra time losses, good for 72 points during the shortened season.
However, the mention of a rebuild indicates that the team is open for business. The core group of players including captain Jonathan Toews, Patrick Kane, and Duncan Keith are all well into the second half of their respective careers. All three players are under contract for the next three seasons, but will they all be members of the Blackhawks by seasons end?
Perhaps the biggest area of concern at this moment is the team's two starting goaltenders who have played a combined total of 84 NHL games. One might think the team will make an upgrade on the current tandem of Malcom Subban and Collin Delia. The Blackhawks have $5.2 million in cap space, but the free agent market for a starting goaltender is bare bones at the moment.
Lots of question marks moving forward for general manager Stan Bowman in the windy city of Chicago. Excitedly, however, there are fewer question marks surrounding the next NHL season! The recently released training camp dates, opening day (Wednesday, Jan. 13, 2021), and divisions should be followed by the last piece of the puzzle — a schedule.
Let's be honest, though, any schedule during this time in history should be completed in pencil.
---
---