I needed a little time to reflect on Team Slovakia's tournament because I was convinced there was more to it than just the expected quarterfinal round exit. I've gone back and re-watched some game film trying to fully grasp what went well, what went poorly and everything in between. There's more good than bad to talk about.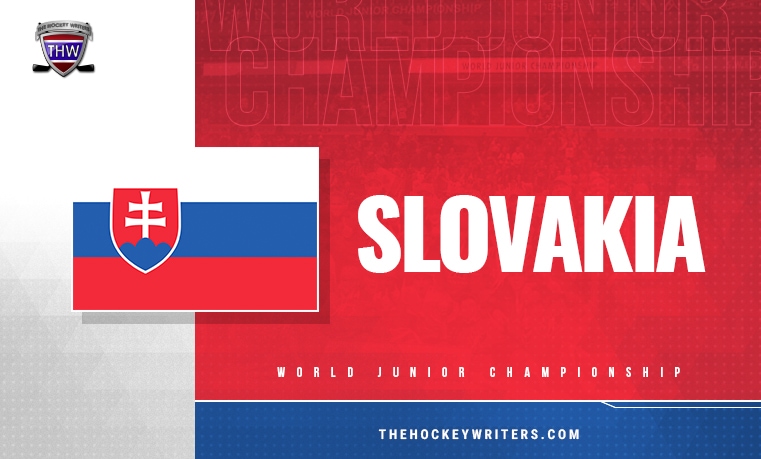 They won the game they had a chance to win against Switzerland, but then surprised everyone by giving Canada a tough contest. With new, elevated expectations they stumbled against Germany and bumbled against Finland to limp into the elimination round with a 1-2-1 record. Then they capped it all off with a spirited loss to the United States.
Along the way, their talent and grit often exceeded expectations, even as they struggled to find their goal-scoring groove. Several players took advantage of the stage laid out for them and drew attention to their international profile. On the surface, Slovakia's one-win tournament capped off with a quarterfinal exit might look similar to their 2020 World Junior result. A deeper look indicates that this tournament was a resounding success for Slovakia's players.
The Latkoczy Gambit Paid Off
In a move that surprised me, the Slovak coaching staff opted to start Simon Latkoczy instead of the presumed starter, Samuel Hlavaj. I did not see that coming. Hlavaj had been expected to start since day one and is a well-regarded goaltender. In a warmup game on Dec. 23rd, against the Czech Republic, both goaltenders played. Nothing from that game gave me the impression that Latkoczy would get the start over Hlavaj.
The team's defensive play was sketchy, to say the least. Slovakia's 6-0 defeat at the hands of the Czech Republic highlighted some of the deficiencies in their defensive scheme and their preparedness. The coaches must have seen something in Latkoczy's performance though, and they decided to go with him for the opening game against Switzerland.
Given Switzerland's relatively weak roster this year, this game was Slovakia's best chance at a win in the group stage. It seemed like a big gamble to put the team's best chance at victory in the hands of the 5-foot-10, right-hand-catching netminder over the larger more traditional Hlavaj.
The gamble paid off. Despite Slovakia's defensive struggles against the Swiss early in the game, Latkoczy stood firm, giving up no goals. As the game went on, the team tightened up on the backend, and by the time the third period came around, Latkoczy had made a few key saves to keep his team in the game. His confidence seemed to increase with each passing minute. The defense in front of him seemed to feed off that confidence, and they, too, improved as the game progressed.
With the game on the line and penalties putting the Swiss on the power play in the waning minutes, Latkoczy had his big moment.
WHAT A SAVE BY SIMON LATKOCZY!!!! #WorldJuniors pic.twitter.com/AvsWZuZl4l

— TSN (@TSN_Sports) December 25, 2020
After the big save, the Slovak defenders risked life and limb to defend their goal crease. Their stalwart defense in the final five minutes to preserve the 1-0 win seemed impossible before the game. The contrast between the defensive play against the Czech Republic versus the final minutes against Switzerland was like night and day. Ultimately, when the moment arrived, and a big save was needed, Latkoczy was up to the task and that helped secure the win.
He continued to be up to the task. Latkoczy finished the tournament with the third-best save percentage (.922) among goaltenders. Of the eight goals he allowed, five were off the power play. Against the United States, he stopped 38 of 42 shots and kept his team in the game until the final five minutes.
Taken Out By the United States
The Slovaks' final game against the United States was surprisingly close. They came into the elimination round having been trounced 6-0 by Finland. Given the American's strong tournament to that point, Slovakia entered the game as the underdog, but someone forgot to tell that to Latkoczy.
Spurred on by their goaltender, who confidently made big save after big save, there was a sense that Slovakia was giving the Americans a hard time. Despite giving up five power plays, the Slovaks managed to make the Americans take some penalties of their own. Dominik Sojka's deflection of a Samuel Knazko point shot on the power play with 10:10 left in the third period made it a 3-2 hockey game.
For much of the game, the Slovaks took away time and space from Team USA and made them settle for sub-optimal scoring opportunities. The ability to finish strong separates winners from losers. On this occasion, the Americans showed they could get the job done. With 4:14 remaining, John Faranacci stomped on Team Slovakia's dreams of an upset by winning a battle for a lose puck and tucking it home to make it 4-2.
Then Slovakia came unglued. The final four minutes saw disastrous attempts to cleanly enter the offensive zone and get their goaltender out for the extra attacker. With 1:30 to go, an offensive zone turnover and failure to gather the puck in the neutral zone, led to an empty-net goal for the Americans making it 5-2.
The game was so much closer than the final score indicates, and some might say the Americans played their worst game of the tournament. However, I think Team Slovakia's defensive scheme and goaltending deserve more credit. They managed to stifle Team Canada to the tune of 2-1 until Jack Quinn sealed that game with an empty-netter to make it a 3-1 final.
Until the Canadians had to play the Americans, the Slovaks actually gave them their toughest challenge. The growth and grit shown by the Slovak defense evolved as the tournament went on, and they kept games close against teams with superior talent.
RELATED: 4 Takeaways From Slovakia's Gritty Defeat At the Hands of Canada
This game, like the one against Canada, demonstrated that when they could pull their game together, Slovakia was capable of hanging with the tournament's powerhouse countries. It makes you wonder what might have been if Slovakia had just one or two more really talented playmakers or goal-scorers on offense.
The chemistry of the Slovak forward lines never seemed to reach a place where they could be consistently threatening. Their best goal-scoring threat, Martin Chromiak, never really gelled with his linemates.
The team that scores the most wins, and without the ability to do that with any consistency, Slovakia had a steep climb, regardless of how tight defensively they were able to play. Still, considering the Americans went on to defeat Canada 2-0 and win gold, this is not a defeat Slovakia should be ashamed of.
Knazko Is Something Special
I will continue to sing Knazko's praises. Ultimately, he had a good tournament. The third-round pick was playing in a tournament matched up against players who were drafted much higher, and he never really looked out of place. I've got high hopes and high expectations for him and this tournament only reinforced that. He was the team captain for a reason.
Knazko's knee injury in the game against Team Germany was a turning point. Without having their best skating defender at 100% in overtime didn't help the Slovaks. He was then scratched for the game against Finland, and the 6-0 defeat shows just how much he was missed.
Game in and game out, Knazko was the best puck-moving blueliner for Slovakia. He also chewed up minutes, typically leading all Slovak defenders in ice time in the games he played. Furthermore, throughout the tournament, he had some of the best entry/exit metrics among the Slovak defenders.
Here are the individual Zone Exit & Zone Entry stats for Team Slovakia from the game vs Germany in Group A at the #WorldJuniors.

Another very strong performance for Juraj Slafkovsky tonight. Knazko was also solid in this game. pic.twitter.com/Yin26uxVJJ

— Mikael Nahabedian (@hunterofstats) December 29, 2020
Knazko was good enough in this tournament to have made the roster on any of the "Big Five" nations. He still needs to develop, but he's on the right track, and he's got the tools NHL teams are looking for. The Columbus Blue Jackets have found a gem, and he'll be a promising prospect to keep an eye on.
Myklukha Helped Make His Name Known
Oleksii Myklukha finished the tournament the leader in faceoff win percentage. He also scored a goal, which was a nice highlight. He demonstrated keen awareness and effort away from the puck, and with the puck, he proved to be a skillful playmaker.
Unfortunately, he just couldn't seem to get on the same page as his linemates to convert on more scoring chances. That aside, he was Slovakia's best center in the tournament. The only real negative was the four minor penalties he took in four games. A scout I talked to projects him to go in the sixth or seventh round of the NHL draft.
🚨🇸🇰 It's 2-1 for @HockeySlovakia Jakub Kolenic with a nice lead pass to Oleksiy Myklukha for the go-ahead goal against @deb_teams #WorldJuniors pic.twitter.com/sw4Zxh76ak

— IIHF (@IIHFHockey) December 29, 2020
I think he could go as early as the fifth, but that will really be determined by his QMJHL season after he settles in with Rouyn-Noranda. He's slated to rejoin them after their season starts back up. All in all, he did enough for this tournament to be a personal success.
He started the season as a C-Ranked prospect on NHL Central Scouting's preseason watch list. With all eyes on this tournament, Myklukha has put his name out there, and there's a good chance a few teams now have scouts looking at him.
Andrej Golian and David Mudrak, Unsung Heroes
Andrej Golian is the kind of player I want on my hockey team. The 6-foot-4, 19-year-old brings the size and stature that you would include if you were building a defender from scratch. His skating could be considered "good enough," but it's not a particular strength of his. Because he doesn't have any great measurable or tangible aspect to his game, it's easy to miss him. It's game film that really offers a sense of what Golian brings to the table.
Throughout the tournament, whenever somebody made a big defensive play or a big block, it seemed like it was Golian. He threw big hits along the boards, and he was tenacious battling for loose pucks. His style of play is perfectly suited for a gritty playoff series when he could slowly grind down opponents over five or six games, making them leery about going into the corners against him.
I hope he catches fire in the WHL, and maybe he can work his way to an NHL camp invite or an AHL contract. I came away from this tournament loving what I saw from him and think he's suited for the North American professional game.
David Mudrak gave me a similar vibe. He was a calming, defensively sound presence on the backend. As the tournament went on, he seemed to get more comfortable at breaking out of the defensive zone. Mudrak was good enough to get drafted in the later rounds in 2020.
He doesn't have a ton of offensive upside, but if he can refine his transition game, he's got a future as a professional defender in a top league in the world. It might not be the NHL, but I could see Mudrak making a career for himself in the KHL, Liiga, or SHL.
What the Future Holds
The big takeaway from this tournament was the stellar play of Simon Nemec and Juraj Slafkovsky. The two 16-year-olds showed off their skills and played very well against significantly older opponents. Nemec came away with four assists and was named one of the top three players for his country. Slafkovsky generated much praise throughout the prospect Twitter-sphere.
Filip Mesar is another talented 16-year-old, but he only saw action in two games for the Slovaks. Of their young phenoms, Mesar's tournament was the most disappointing. The expectation though, is that these three players will continue to develop and be better over the next two years of their eligibility.
This brings me to a difficult conversation. If Slovakia wants these players, and others, to develop to their potential, they're going to have to find them another place to play. There have been attempts to get a national team development program going, but it cannot possibly form in time for this group of players. In the short term, if the country wants to increase the overall level of play of their national junior team, they will have to continue to send promising prospects to leagues outside of Slovakia.
Some of the country's top players in this tournament played junior hockey elsewhere. Michal Mrazik and Simon Jellus played in the Swedish U20 league. Knazko, Slafkovsky, and Rayen Petrovicky played in the Finnish U20 league. For the players set to play in North American leagues, COVID-19 complicated things this season. Players who had been taken in the CHL Import Draft were unable to report to their OHL, QMJHL and WHL teams. Marko Stacha, Matej Kaslik, Mudrak, Golian, Chromiak, and Myklukha all stayed in Slovakia due to the pandemic.
RELATED: Team Slovakia Players to Watch at 2021 World Junior Championship
Nemec, Slafkovsky, and Mesar are all eligible for the 2021 CHL Import Draft. Simon Becar, the 17-year-old defender, is also eligible. Slafkovsky will probably be selected, but it will be later in the draft and likely by a team that doesn't expect him to come over from Europe. He's playing with TPS in Finland's junior league, which is a fine program. Hopefully, he'll see his minutes expand over the next 12 months and by the next tournament, he will have more experience under his belt.
Nemec and Mesar have both seen time in Slovakia's men's league, the Tipos Extraliga. Becar has spent some time in the U18 league in Slovakia this season but he's slated to play in the Tipos Extraliga at some point. This is a men's professional league, and these young players are doing well for themselves in it. The downside is, the level of competition caps out very low.
Most of the league is made up of players of Slovak heritage in a country with a population of 5.45 million people. That's smaller than 22 US states. It's smaller than the population of the greater Toronto metro area. A 12-team league made up of a small pool, even with import players, is going to see its average talent level suffer. That's the uphill battle that Slovakia faces with its pro-league.
It's possible that Slovakia could focus on increasing the talent level. The Clarke brothers are playing for HC Nove Zamky and Brandt Clarke is slated to be a top pick in the 2021 Draft. He could bring the league some much-needed exposure and maybe attract players looking to play professionally at a younger age. However, this seems more like a COVID-generated one-off situation rather than a policy for league development, but it's a possibility worth exploring.
Unfortunately, any changes made toward a national development program or increasing the quality of the men's league will come too late Nemec, Becar, and Mesar. It will be in the best interest of Slovak hockey to try to lobby for quality teams to take them in the summer's CHL Import Draft.
Final Thoughts
Slovakia exceeded my expectations at the 2020 World Juniors. I spent a lot of time digging up footage of these young players and learning to pronounce their names. Google translate was my best friend. If you're interested in Slovak prospects, I recommend giving Samuel Tirpak and Matej Deraj a follow on Twitter. They are great resources for the latest info on Slovak hockey, and I couldn't have completed my coverage of Team Slovakia without them.
I expect Nemec, Mesar and Slafkovsky to be back next year, hungry for a better result. Knazko, Myklukha, Chromiak, are all eligible to return next year along with Latkoczy. If the 2022 team can build off the results from this tournament, Slovakia could reach beyond the quarterfinal round for the first time since 2015. That would be a sight to see.
---
---