In today's NHL rumor rundown, expect a huge amount of players to hit the waiver wire today. one story to watch out of Florida might be what's going on with Keith Yandle. Will he continue his Iron Man streak? What is the story with Brad Marchand's injury? Is he ready to return or did he try to come back too soon? The Edmonton Oilers may be concerned about their goaltending depth and the Toronto Maple Leafs third line center experiment with Pierre Engvall seems to be over.
NHL Changes LTIR Rules Last Minute
As per a report by TSN's Frank Seravalli on Monday morning, the NHL has informed teams that if any changes are made to the submitted Tuesday rosters on Wednesday (for LTIR purposes), it will count as if they were originally submitted on Tuesday. This could pose some issues for teams who were going to wait to the very last minute to move players to maximize their LTIR cap savings.
The reasoning behind this decision is because the NHL feels that changes would prove the teams were not accurately reflecting their Opening Night rosters in their original submission and were "undermining" or "circumventing" the system.
This is going to affect a lot of teams and the NHL will likely have tons of players hit the waiver wire today. As Seravalli notes:
"Teams don't want to operate in LTIR all season, so they like to get as close to the cap as possible for Day 1 (Tuesday) and THEN add their players to LTIR on Day 2 (Wednesday) to maximize the benefit. It's interesting this year because a number of the teams that play on Wed. plan to be cap compliant using LTIR: Tampa Bay, St. Louis, Vancouver, Edmonton and Chicago. This may force an opening night roster that team/coach may not have planned – at least for the first day."
Waivers Coming Fast and Furious
Today may be the biggest day in terms of players who hit the waiver wire. Among the players already hitting waivers are the Montreal Canadiens two latest signing, Corey Perry and Michael Frolik. The Canucks have place Louis Eriksson and Sven Baertschi on waivers and the Tampa Bay Lightning sent Tyler Johnson and Luke Schenn down.
The Oilers moved Jujhar Khiara, Patrick Russell, Joakim Nygard, Anton Forsberg and Alan Quine, while the Calgary Flames moved Derek Ryan, Zac Rinaldo and Oliver Kylington.
Yandle Iron Man Streak In Jeopardy?
According to Elliotte Friedman, there's a story developing out of Florida that is potentially worth watching. Friedman mentions that the Panthers first two games (vs Dallas) were postponed. Defenseman Keith Yandle's 866 games consecutively-played streak is longest active (and 4th all-time) and there is talk that he may be healthy scratch at some point during the season.
You wouldn't think this based on his offensive production, but George Richards notes that the team split up team in practice with what looks like game players and those on the fringe of making the roster during camp. Yandle was in that second group of fringe players. Head coach Joel Quenville says group can change throughout week and that he wants to see the teams younger defensemen but there's talk that Yandle's spot is certainly not guaranteed.
Related: Canucks' Weekly Report: Hoglander, Goalie Showdown, Boeser & More
Marchand Leaves Practice Early
Boston Bruins forward Brad Marchand is trying to be ready for the season after and injury and offseason surgery but he left practice early Sunday, according to Boston Globe's Matt Porter.
The Bruins are already dealing with injury issues and have taken some big losses in terms of the team this offseason. Marchand, 32, returned earlier than expected from his four-month rehab window and it will be worth watching to see if his leaving practice early means anything. Head coach Bruce Cassidy said he was getting treatment and doesn't believe the injury is serious. He is a game-time decision for Monday's scrimmage.
Maple Leafs Cut Pierre Engvall
The Toronto Maple Leafs made a number of roster cuts on Monday and there are some surprising names on the list. Included are: Kenny Agostino, Joey Anderson, Justin Brazeau, Rourke Chartier, Pierre Engvall, Tyler Gaudet, Mac Hollowell, Michael Hutchinson, Teemu Kivilhalme, Timothy Liljegren, Martin Marincin, Nic Petan, Calle Rosen and Scott Sabourin.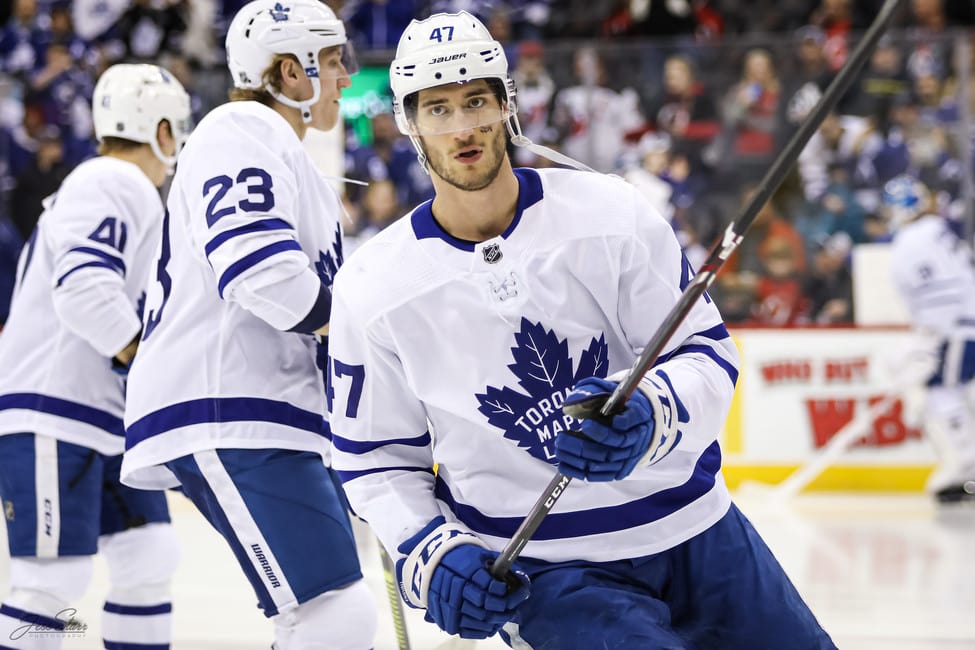 Engvall might be the most surprising as he was expected to be a regular on the roster this season. Part of the reason might be that Alex Kerfoot returned to Leafs practice today.
Oilers To Hunt for a Goalie
Despite the fact the Oilers waiver Anton Forsberg today, Allan Mitchell of The Athletic seems to think the Oilers might try to pick someone up on the waiver wire or early into the season to add to their goaltending depth over the course of the season.
He writes that Aiden Hill is one of three options and says:
"The situation in Arizona deserves scrutiny, especially if Hill is a waiver possibility. It would behoove Holland to get in front of the waiver transaction and acquire Hill if he's available. Although a team can't run successfully with three goalies long term, bringing in Hill for this season would give the Oilers improved depth at a vital position and allow Holland some choices as it pertains to the coming Seattle Kraken expansion draft."
Catch up on all the latest NHL Rumors