To say that James Neal began the 2019-20 season on a hot streak is a bit of an understatement. In fact, even with all the stars the Edmonton Oilers have iced throughout their history, Neal set an Oilers' record – even something the Great One (Wayne Gretzky) was unable to do. Neal was the first Oilers' player – ever – to score six goals in the first three games of a season.
Related: Connor McDavid Predicts Jesse Puljujarvi Will Be Huge for the Oilers
That's quite a feat. It's also especially surprising given that in 1981 Gretzky scored 50 goals in 39 games, and that the Oilers' roster over the seasons has been filled with incredible offensive talents such as Jari Kurri or Mark Messier. Still, it's Neal who holds the Oilers' record.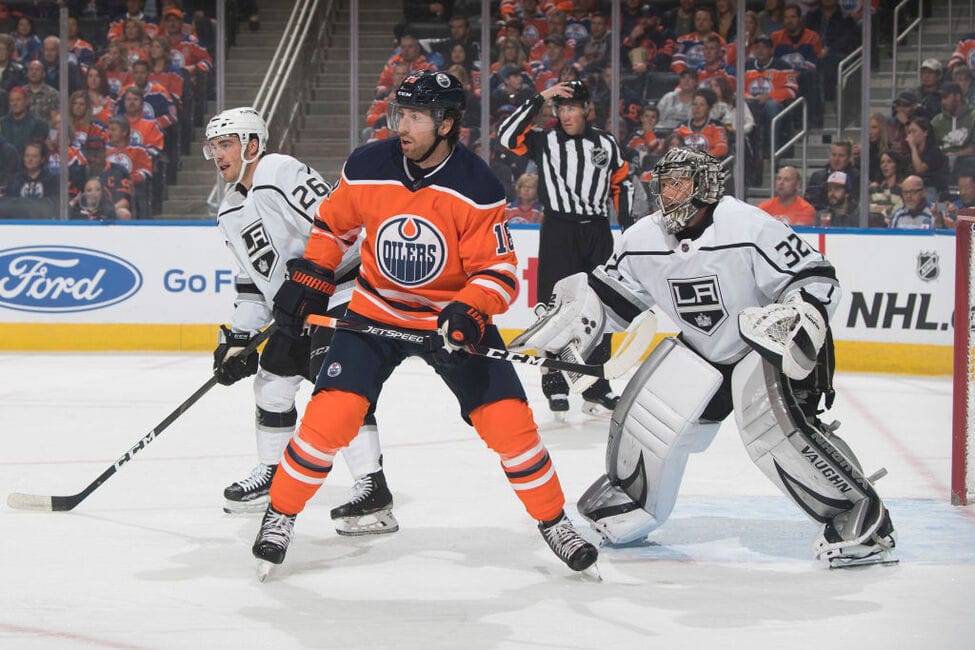 Neal's determined to start quickly again this season. In fact, during a recent Sportsnet interview, he reported that he clearly believes the Oilers need to get out of the gate quickly if they are to do well during this unique 2020-21 season.
James Neal's History of Scoring

That Neal can score should be no surprise; in fact, his career totals show that he scored 20 or more goals during every one of his first 10 seasons before dropping to seven during the 2018-19 season with the Calgary Flames. Calgary must have believed Neal was done because they traded him to the Oilers for Milan Lucic in a move of bad contracts.

Related: Maple Leafs News & Rumors: Warsofsky, Marleau, Andersen & Kuemper

However, during the 2019-20 COVID-19-shortened season, Neal started hot. He would have hit the 20-goal mark again except for an injury. Although it can be argued that he's not producing to the value of his $5.75 million (for three more years) contract, Neal did prove that his single season with the Flames was a scoring aberration.
Neal Can Be Value-Added to a Team with Great Players
One player who wasn't surprised by Neal's success last year with the Oilers was his former teammate Sidney Crosby with the Pittsburgh Penguins. During the middle of his hot streak with the Oilers, Crosby recalled Neal's success with the Penguins. Because Neal spent four seasons with the Penguins, Crosby knows his abilities well.
Specifically, Crosby noted, "I don't think I'm surprised, the way he shoots the puck, he's just a pure goal scorer. You combine him with some of the guys that can make plays on their team, that's a pretty good combination. We saw it firsthand here what he can do and how good of player he is, and he's been playing unreal for them." (from "Edmonton Oilers notes: Unique perspective for James Neal," Derek Van Diest, Edmonton Sun, 01/11/19).
Neal Knows the 2020-21 Season Will Come Quickly
Because Edmonton's 2020-21 season will be played within a shortened timeframe, Neal knows Oilers need to hit the ground running if they are to be successful in what is likely to be a tight Canadian-teams-only North Division.
In a recent Sportsnet video, the Oilers forward spoke about what he's expecting from upcoming play in that all-Canadian division. Neal admits that, as a scorer, the 2020-21 season presents a bit of a different situation because there are no preseason games. As a result, a scorer must be off and running right away.
During his interview, although listeners get a sense Neal would prefer to have preseason games to get his timing back, he admits that last season's postseason bubble helped players gain a taste of how to enter this season. As Neal noted, during the bubble there were "only a few exhibition games and then right into playoffs, so I think guys got a taste of what you have to do to be ready right away."
Assessing this Season's Oilers
As he looks at his Oilers' team, Neal thinks "the guys have looked looks really good so far." He also assesses that the team is entering the season with some "fire" and that "everyone's coming in great shape" so they can "hit the ground running."
Related: The Worst First Overall Draft Picks in NHL History
He believes that "it's going to be really tight Canadian division" with a "lot of good teams." As a result, the Oilers "must be ready to get off to a strong start."
Interestingly, Neal believes games in the all-Canadian division will be "pretty intense" and "very competitive." He's looking forward to playing in what amounts to be "playoff-type" hockey every game. As a result, he believes "every time we step on the ice we have to be extra-prepared and urgent."
Neal's Status Headed into the 2020-21 Season
Yesterday, Neal joined his teammates on the ice for practice for the first time since training camp opened. The move was a bit of a surprise because, on Jan. 7, head coach Dave Tippett reported that didn't expect Neal to return that soon.
Neal had been skating, but was deemed "unfit to play" at the beginning of training camp. However, during Saturday's practice, Neal joined the main Oilers' group and alternated as the extra forward. In the 33-year-old forward's absence, Dominik Kahun started training camp as the team's second-line left winger. Kahun's status is likely to change if Neal becomes healthier.
Will the Early-Season Neal or the Late-Season Neal Show Up in 2020-21?
As I noted early in this post, Neal had a red-hot start to the 2019-20 season, but he ended on a bit of a drought. After scoring 12 goals in his first 18 games, he then only scored seven goals over the last 37 games.
Related: Oilers Aren't the Only Edmonton Team to Play for the Stanley Cup
Still, he showed his value against the Chicago Blackhawks during postseason play with two goals and an assist in the Oilers play-in series loss to Chicago. If Neal stays healthy, he'll likely play on the Oilers' third line with time on the second power play.