It was an up-and-down week for the Arizona Coyotes to begin the 2020-21 season. They started out with a solid showing against the San Jose Sharks, earning three points in two games at Gila River Arena, but a trip to Sin City proved unfruitful for the 'Yotes, as they suffered two regulation losses to the Vegas Golden Knights. With two more matchups against Vegas coming up this week as well as two more games against one of the rebuilding California teams, Arizona will need to bounce back in order to keep pace in the ultra-competitive West Division.
Coyotes Undisciplined Early vs Sharks
In the season opener last Thursday, the Coyotes, to the surprise of some, actually looked like the team that came in off of a 10-month layoff, not the Sharks. Arizona took two penalties in a span of 27 seconds in the opening period, the first of which, a Niklas Hjalmarsson hooking penalty, resulted in a power-play goal from the Sharks' Tomas Hertl. The Coyotes managed to kill the second penalty, but San Jose had all of the momentum and doubled their lead a few minutes later, as Hertl scored his second goal in a span of 4:08.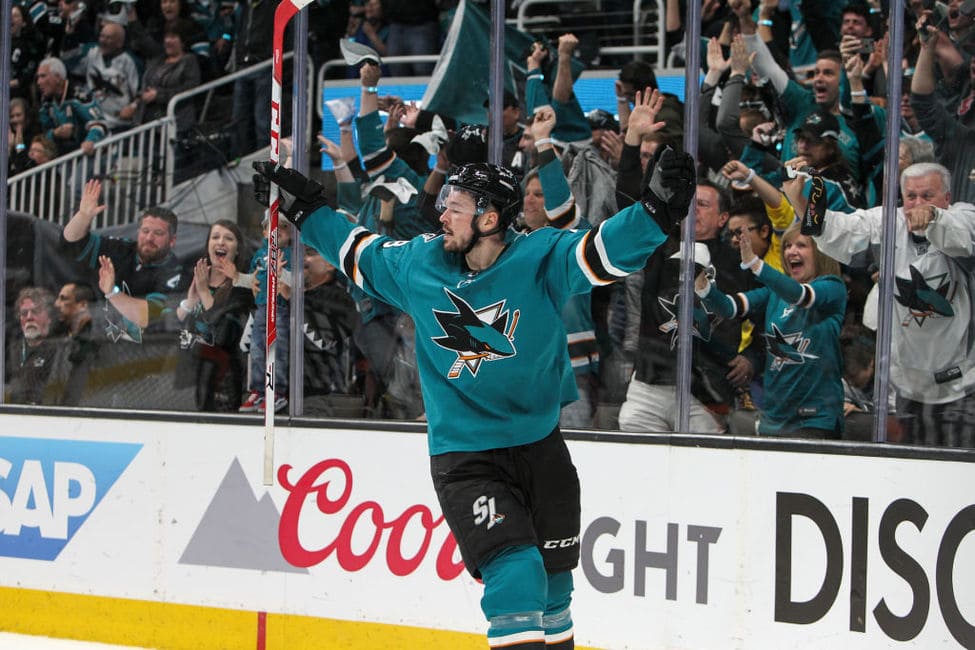 After a brutal 20 minutes, the Coyotes rebounded in the second when it was San Jose's turn to make repeated trips to the penalty box. With less than five minutes remaining in the second period, The Sharks' Joel Kellman went away for tripping on what was San Jose's third consecutive penalty, and Arizona's Conor Garland cashed in with his first of the season 41 seconds later.
There would be no further scoring in the game until the 11:24 mark of the third period, when Evander Kane beat Darcy Kuemper to seemingly provide an insurance goal in what was to become a Sharks win.
Arizona's Offense Awakens
The Coyotes had other ideas after the Kane goal, though, as Clayton Keller buried his first of the season with 3:30 remaining to cut the San Jose lead in half. The 'Yotes then pushed hard for the equalizer with Kuemper on the bench, and they got it when Phil Kessel posted his first of the season with just 3.2 seconds remaining:
In the ensuing 3-on-3 overtime period, the Coyotes survived a Sharks' power-play chance, but fell in a shootout and had to settle for one hard-fought point.
In the second game between these two teams on Saturday, it was all Coyotes following a back-and-forth first period. San Jose scored twice in the opening 20 minutes, but goals Arizona's Phil Kessel and Barrett Hayton answered with goals of their own. Hayton's goal, the second of his career, was an absolute beauty, and a sign of what's to come for the 20-year-old:
Kessel, Keller, and Jakob Chychrun scored three unanswered goals for Arizona over the final 40 minutes to break the game open, and the Coyotes, after chasing Sharks goaltender Martin Jones, walked away with a 5-3 victory.
Coyotes A Bust in Vegas
With three points in their pockets, the Coyotes headed to Sin City for a two-game set against the Vegas Golden Knights in T-Mobile Arena. The first game, a Monday night contest, started off well enough for Arizona, with both special-teams units getting on the board. Tyler Pitlick scored the Coyotes' first shorthanded goal of the season in the first period, and Nick Schmaltz scored a power-play goal in Period No. 2.
However, the 'Yotes fell apart over the game's final 25 or so minutes. Max Pacioretty broke Darcy Kuemper's shutout bid with 2:58 remaining in the second period, and the floodgates opened in the third period for Vegas as Reilly Smith and Chandler Stephenson scored the game-tying and go-ahead goals, respectively. Despite a very late 6-on-4 power play chance, the Coyotes were unable to respond, and Smith iced the game with a shorthanded empty-netter with 12 seconds remaining to give Vegas a 4-2 victory.
In the rematch at T-Mobile Arena on Wednesday, things continued to go downhill for Arizona. Defensemen Shea Theodore and Alex Pietrangelo scored their first goals of the season in the game's opening 10 minutes, and Mark Stone added his second of the year midway through the second period to extend the Golden Knights' lead to 3-0.
Schmaltz was able to prevent the Coyotes from being shut out with his second goal in as many games, but the Coyotes were outclassed in this one en route to a 5-2 loss.
Kessel, Keller, Schmaltz Start Strong
Last week, we published a piece about how the Coyotes' trio of Kessel, Schmaltz, and Keller needed to be Arizona's three best offensive players in 2020-21 if the team was to have any chance at competing in the West Division.
Well, after four games, it looks like the three key forwards have stepped up after relatively down seasons in 2019-20. Kessel, who scored just 14 goals in 70 games last season, has four goals in as many games to start 2020-21.
Obviously, four games is a small sample size, but, on the surface, Kessel looks to once again be the dangerous scorer the Coyotes thought they were acquiring when they sent Pierre-Olivier Joseph and Alex Galchenyuk to the Pittsburgh Penguins in 2019. He's shooting the puck more often than he did last season and he overall looks a lot healthier than he did a year ago, when he admittedly wasn't at full strength due to a variety of injuries and ailments.
When it comes to Keller and Schmaltz, both are attempting to rebound from tough performances in 2019-20. Keller, who recorded 45 points last season and is in the first year of an eight-year deal paying him $7.15 million a year, has picked up two goals and an assist in his first four games. Schmaltz, who had 44 points in 2019-20 and is making $5.85 million, has done the same.
As is the case with Kessel, four games are not much of a sample size, but Keller and Schmaltz will need to continue scoring at a high rate this season for the Coyotes to have success. Both players have shown the ability to score at this pace (60 points in 82 games) over short periods of time, but they'll need to work towards providing points on a more consistent basis here in 2020-21. 40-point seasons from both of them in this 56-game schedule will go a long way toward helping Arizona return to the Stanley Cup playoffs.
Also notable is the play of Conor Garland, who is in the final year of a contract paying him $750,000 annually. The third-year pro led the Coyotes in goals last year with 22 and is once again off to a good start, with a goal and two assists through four games.
Even when he isn't scoring, Garland is noticeable on nearly every shift – his play brings energy to the Coyotes every night, and he's already established himself as a fan-favorite in the Valley of the Sun. If he keeps this up, he'll be getting a nice, well-deserved raise from Arizona over the summer.
Not bad for a fifth-round pick.
What's Next?
With two games in Vegas in the history books, the Coyotes and Golden Knights will head to Glendale for two games at Gila River Arena, on Friday night at 7:00 P.M., and on Sunday afternoon at 2:00 P.M.
In their third and fourth-consecutive games against Vegas, Arizona will undoubtedly be looking to get back on track after two tough games at T-Mobile Arena. However, they've had little success on home ice against the Golden Knights, with just one win in five tries. They'll need to rebound here and earn at least a split in Glendale.
Once the 'Yotes and Knights wrap up their business, the Anaheim Ducks will come to town for a two-game set on Tuesday and Thursday. Although the COVID-19 pandemic resulted in the final few weeks of regular-season action being canceled in 2019-20, the Coyotes and Ducks managed to complete their four-game season series before the shutdown, with each team earning two victories.
When the puck drops on Tuesday night, it will have been 363 days since these teams last faced off against one another. It should be an interesting series at Gila River Arena – both games are scheduled to get started at 7:00 P.M.
West Division Roundup
As expected, the Colorado Avalanche, Vegas Golden Knights, and St. Louis Blues appear to be the cream of the crop in the NHL's new West Division, which, as a result of the 2021 Stanley Cup playoff format, will leave only one other postseason berth for the five other clubs to fight over. Here's a look at how the Coyotes' competition fared in the season's opening week:
Anaheim Ducks (1-2-1, 3 pts, T-7th place)
Last week: 1-2-1 (5-2 L at VGK, 2-1 OTL at VGK, 1-0 W vs MIN, 3-2 L vs MIN)
Analysis: As expected, John Gibson was the Ducks' best player last week. A season-opening loss to Vegas aside, Gibson allowed just two goals across his next two games. He posted a shutout on Monday against the Wild and shut Vegas out for the first 58 minutes and change of Saturday's overtime loss. If he can continue his outstanding play in net, the Ducks might be able to hang around in the West Division, but they'll need to score some goals.
Player of the week: John Gibson – 1-1-1 record, 89 saves on 95 shots (.927 SV%, 2.03 GAA), 1 shutout
This week: Fri vs COL, Sun vs COL, Tue at AZ, Thu at AZ
Colorado Avalanche (2-2-0, 4 pts, T-4th place)
Last week: 2-2-0 (4-1 L vs STL, 8-0 W vs STL, 3-2 W at LA, 4-2 L at LA)
Analysis: The Avalanche had one of the more perplexing weeks throughout the league – they had an eye-popping 8-0 win over the Blues on Friday, but, outside of that, they were unimpressive, losing two other games and beating the Kings 3-2 after nearly blowing a 3-0 lead. It's still early, but Colorado needs to quickly find its footing.
Player of the week: Nathan MacKinnon – 2 goals, 5 assists, +1, 16 SOG
This week: Fri at ANA, Sun at ANA, Tue vs SJ, Thu vs SJ
Los Angeles Kings (1-1-2, 4 pts, T-4th place)
Last week: 1-1-2 (4-3 OTL vs MIN, 4-3 OTL vs MIN, 3-2 L vs COL, 4-2 W vs COL)
Analysis: The LA Kings ended last season on a seven-game winning streak, but things are off to a rough start here in 2020-21. In their season-opening series against the Wild, LA blew 3-1 third-period leads in both games en route to two overtime losses at the Staples Center. They then split a two-game set with the Avs and are, surprisingly, at .500 through four games despite having just one win.
Player of the week: Anze Kopitar – 6 assists
This week: Sat at STL, Sun at STL, Tue at MIN, Thu at MIN
Minnesota Wild (3-1-0, 6 pts, 2nd place)
Last week: 3-1-0 (4-3 OTW at LA, 4-3 OTW at LA, 1-0 L at ANA, 3-2 W at ANA)
Analysis: It's Kirill Kaprizov's world – we're just living in it. The Calder Trophy favorite couldn't have gotten his career off to a better start, as he collected two assists and the game-winning overtime goal on Jan. 14 in Los Angeles before throwing in two more assists over the next three games for good measure.
Player of the week: Kirill Kaprizov – Goal, 4 assists, +3
This week: Fri vs SJ, Sun vs SJ, Tue vs LA, Thu vs LA
San Jose Sharks (2-2-0, 4 pts, T-4th place)
Last week: 2-2-0 (4-3 SOW at AZ, 5-3 L at AZ, 5-4 L at STL, 2-1 SOW at STL)
Analysis: The Sharks have faced a lot of questions relating to their goaltending over the past few years, and it doesn't appear as if these will be going away anytime soon. Martin Jones has already been pulled from a game, and Devan Dubnyk wasn't great in his only start of the season, allowing 5 goals on 35 shots. Will general manager Doug Wilson start to see his seat heat up due to his inability to fix the team's goaltending situation?
Player of the week: Tomas Hertl – 3 goals, 3 assists
This week: Fri at MIN, Sun at MIN, Tue at COL, Thu at COL
St. Louis Blues (2-1-1, 5 pts, 3rd place)
Last week: 2-1-1 (4-1 W at COL, 8-0 L at COL, 5-4 W vs SJ, 2-1 SOL vs SJ)
Analysis: The Blues had quite the eventful opening week – they played well in three of their four games, but lost 8-0 to the Avalanche in the other contest. That's likely a 'burn the film' kind of game for head coach Craig Berube, but it still has to be concerning to see your team lose by eight goals.
Player of the week: Jordan Kyrou – 2 goals, 2 assists, +3
This week: Sat vs LA, Sun vs LA, Tue at VGK, Thu at VGK
Vegas Golden Knights (4-0-0, 8 pts, 1st place)
Last week: 4-0-0 (5-2 W vs ANA, 2-1 OTW vs ANA, 4-2 W vs AZ, 5-2 W vs AZ)
Analysis: The Golden Knights are one of just three remaining unbeaten teams, so, needless to say, they're off to a great start. They haven't allowed more than two goals in a game yet, and they've failed to score four or more goals only once. It's early, but Vegas is looking scary good in 2020-21.
Player of the week: Mark Stone – 2 goals, 5 assists, +6
This week: Fri at AZ, Sun at AZ, Tue vs STL, Thu vs STL
---