February is a good month for Jason Spezza. On Feb. 4, four weeks into the 2020-21 season, the 37-year-old hit the ice for the Toronto Maple Leafs and recorded his eighth career hat trick. He scored using an old school slap shot, a wrist shot from the face-off dot, and a beautiful move to cut around the lone Vancouver Canucks defenseman, which opened the ice for him to swing around and tuck the puck past the sprawling goaltender.
Thirteen years earlier in February of 2008 (Feb. 9 to be exact), Spezza scored his first career hat trick with a similar display of offensive skill against another Canadian opponent. He no longer plays for the Ottawa Senators and is quite happy playing for his hometown team in Toronto. Nevertheless, let's look back at the night of his first three-goal game and, coincidentally, a career high for points in a game for the 2001 second-overall Senators draft pick.  
Spezza Shines
Spezza played parts of 11 seasons with Ottawa and had his share of highs and lows with the team. There were high expectations placed on him as an exceptional player in the Ontario Hockey League and after strong stints in the American Hockey League between appearances with the Senators. He lived up to those expectations but also dealt with a back injury (among others) that kept him out of more games than perhaps he would have liked. He also served as captain of the Senators after Daniel Alfredsson left in free agency.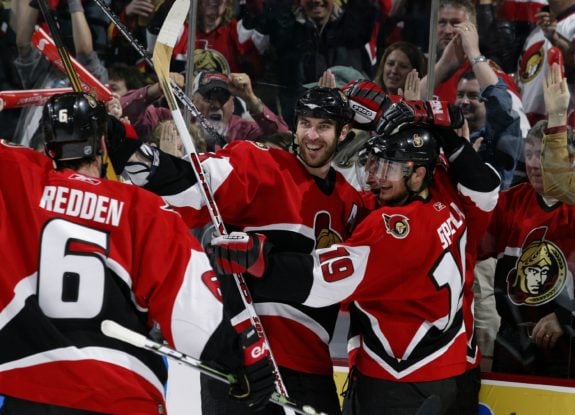 Oddly enough, before Spezza scored a hat trick, he had already played around 300 NHL games, put up 90- and 87-point seasons while playing 68 and 67 games in those seasons, respectively, and set a franchise record for 71 assists in a season (which still stands). It took a few years for him to get on the scoresheet with three goals in one game, but when he did, he made sure to even it out with three assists as well.
The Hat Trick
It was a quick start to the night for Spezza. The Montréal Canadiens were in Ottawa for a Canadian matchup that seems commonplace now but was not as frequent then. In the 10 games around the Feb. 9 meeting (five games before, five games after) Ottawa only played another Canadian team twice. Perhaps it was the opponent or just the fact that it was a big game for a hockey audience tuning in on Saturday night. Either way, he was clearly ready to go. Twenty-two seconds into the first period, Spezza deflected a point shot past Cristobal Huet for his first goal. Huet had a rough night and didn't make it five minutes through the game before being replaced by rookie goaltender Carey Price.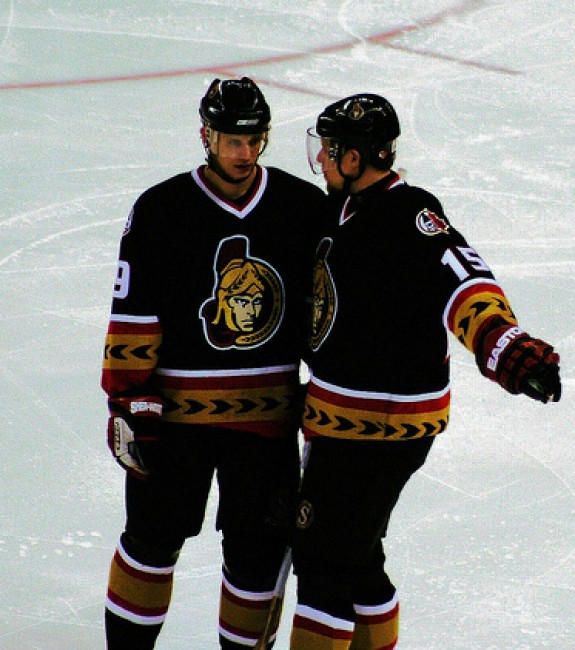 One minute and twenty seconds later, Spezza added his second of the night by tapping in a loose puck after a Dany Heatley shot. He was feeling good and his linemates (Alfredsson and Heatley) were right behind him. Alfredsson was returning after missing some games due to a hip injury and had a solid game himself with two goals and three assists. With 58 minutes and 18 seconds left to go in the game, Spezza had a decent chance at adding a third goal for his first career hat trick. He added an assist to his point totals before the early goalie change in the first period.
Halfway into the second period, Spezza added another assist, and, shortly after, his hat trick goal. It came on the power play and was set up by Heatley and Alfredsson. This line put up a combined 15 points that night and were dominant in the 2007-08 season. Spezza added an assist on an Alfredsson power-play goal in the third period, capping a six-point night for Spezza and helping Ottawa beat the Canadiens 6-1. That night still stands as his career high for points in a game and is an excellent showing if it remains so. He also put up a career high in points that season with 92 points in 76 games. Unfortunately, the Senators exited the playoffs quickly in a four-game sweep at the hands of Sidney Crosby's Pittsburgh Penguins. The Penguins went on to lose in the Stanley Cup Final to the Detroit Red Wings.
Making the Most of His Time
Worthy of note in this game is Spezza's ice time. The third period alone against the Canadiens saw 38 minutes in penalties handed out between the teams, with most revolving around an aggressive meeting between Ottawa defenseman Wade Redden and Montréal forwards Sergei Kostitsyn and Francis Bouillon. The second period was also filled with Montréal power plays. This meant that Spezza sat on the bench for a large portion of the game. He played only 13:37 and still contributed six points. His ice time in this game looks closer to his average ice time now as a third and fourth line, second power-play specialist with the Maple Leafs. In 2007-08, however, this was well below average for him (20:40 per game, the highest season average of his career).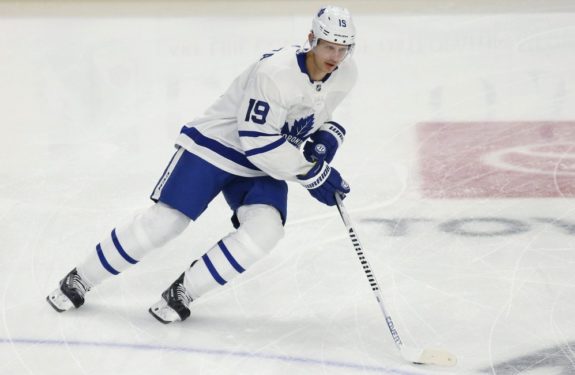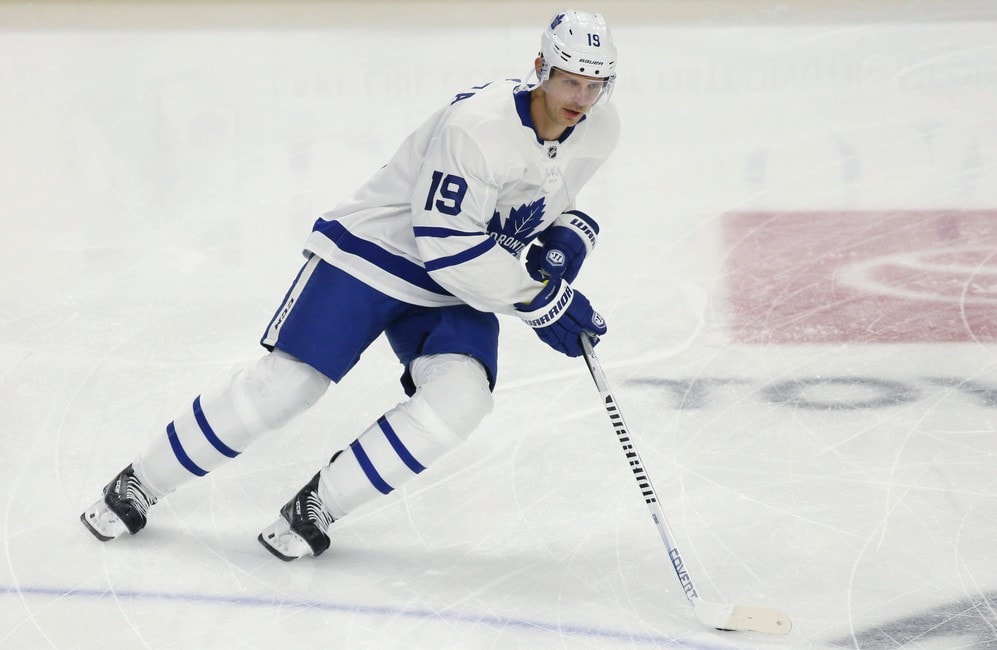 Spezza only played 12:17 in the game in which he scored his eighth career hat trick. This is still more ice time than his average over his time with the Leafs (10:40 per game). What's remarkable is that he only played 1:20 longer, which could have been a long shift, power-play stint, or two solid shifts, on Feb. 9, 2008, and added three more points. His first and eighth hat trick were years apart and his role has significantly changed, but what stands out in these two games is his skill and contribution in what minimal ice time he had. His skill is what made him a highly sought-after pick, a two-time All-Star, and a consistent threat on the ice. It's also what is keeping him in an NHL lineup today.
---
---