The Colorado Avalanche haven't played a game since Groundhog's Day and, at the risk of using a played out joke, practice has to be getting pretty repetitive. Colorado's set to play four games in eight days against the Vegas Golden Knights, with the first two coming on the road with Sunday's and Tuesday's games to be played in Las Vegas. They'll return home for a pair next week.
But with the bad news of not playing for nearly two weeks comes some good news. Nathan MacKinnon, Devon Toews and Pierre-Edouard Bellemare have returned to practice, and all might be available to play on Sunday.
MacKinnon leads the Avalanche in scoring with 14 points behind 12 assists. Toews has three goals on the season, including a pair on the power play, through eight games. Bellemare has also played in eight games, and is still waiting for his first point, but he will be more than welcome back on the penalty kill.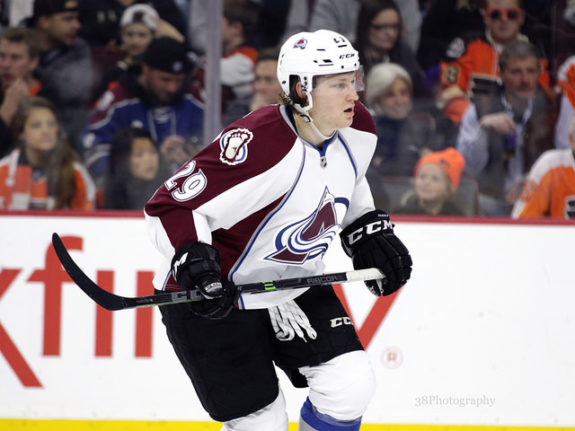 Colorado played the Minnesota Wild for three consecutive games, winning two of three, before being shut down for COVID-19 restrictions. The lone loss was the middle game in that stretch, and came in overtime in a game where they lost superstar MacKinnon.
But the Avs dug out a 2-1 win on Feb. 2 behind goals from the third and fourth line. The goals by Logan O'Connor and Valeri Nichushkin were the second of the season for both. Then came the COVID-19 shutdown, which allowed for some players to heal up, but Colorado isn't completely healthy just yet.
Avalanche Still Have Losses to Overcome
The returns of some are providing some relief from injuries — but the Avalanche are not completely out of the woods.
Set to resume play this weekend, and Colorado's injury report still holds some important names. Three players — Gabriel Landeskog, Samuel Girard and Tyson — sit on the COVID-19 protocol list, while plenty of other important names still litter the injury report.
Erik Johnson was moved to injured reserve when Toews was pulled off, and backup goaltender Pavel Francouz is still expected to be out of the lineup long-term. Matt Calvert remains on injured reserve, but he is expected to resume skating this weekend.
Calvert's progress is promising, as he was playing great hockey before missing the last four games due to injury. He has just one assist on the season, but averages 14:47 of ice time — sixth on the team for non-defensemen — and was a critical energy player on the team's fourth line.
Colorado Hopes For Minimal Rust After Break

The COVID-19 hiatus may have come at a good time for some players to lick their wounds, but there were some players that probably didn't want to see a break at all.

Goaltender Philipp Grubauer was sizzling, going 7-2 with a .923 save percentage and a 1.67 goals against average. He also has two shutouts through nine games, which is just one short of his career high for a season. At the time of the break, Grubauer was tied for the NHL lead in both wins and shutouts.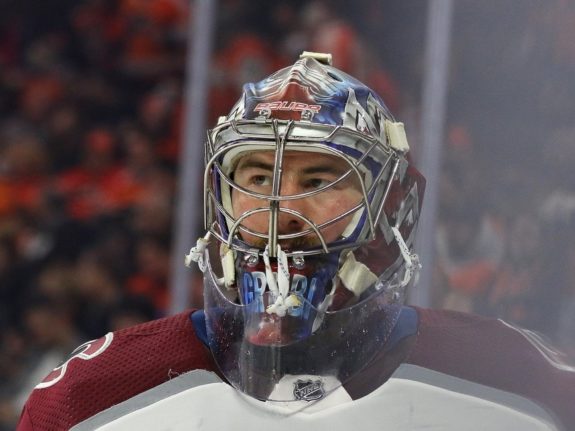 Joonas Donskoi also had a five-game point streak before the break, and Brandon Saad has four goals in his last five games. O'Connor has also been sharp since filling in on the fourth line for the injured Calvert and Bellemare. O'Connor has only played in the three games against Minnesota, but has two goals on the season. He scored the first goal of the game in both of Colorado's two wins against the Wild.
The Avalanche have played well through the injuries, as the 7-3-1 record suggests. But the team still need more goal-scoring depth. Colorado has gotten goals from 13 different players through 11 games. In the West Division, only the San Jose Sharks have fewer goal scorers with 10 this season.
A whopping 17 of Colorado's 38 goals have come from three players — Mikko Rantanen, Donskoi and Saad.
This four-game stretch is a critical one for both teams. Vegas currently sits in second place the West Division, two points ahead of the Avalanche. They've both played 11 games, but Vegas is just one point behind the division-leading St. Louis Blues. However, the Blues have played three more games than either the Avalanche or the Golden Knights.
---
---