In today's NHL rumors rundown, is Taylor Hall frustrated with how things have been going with the Buffalo Sabres? Meanwhile, an Edmonton-based reporter takes a deep dive into contract talks (or the lack thereof) between the Edmonton Oilers and Ryan Nugent-Hopkins. Could the Boston Bruins be looking at Mattias Eklholm and did Brian Burke just hint that the "win now" window the Pittsburgh Penguins have kept open will be closing fairly quickly?
Hall Calls His Run With Sabres a Struggle
Hall recently spoke to the media and said this tenure with Buffalo hasn't exactly gone the way he'd have hoped. While he's noted in the past he's confident the team can turn things around, Hall is well aware that he has only a single goal on the season, making it 11 straight games without one.
He noted:
It's been a struggle for me, personally. I feel like I've had some bad luck a bit. But at the same time, when you're not scoring, you got to change something, you got to find whatever is in your game that's not allowing you to put the puck in the net.
He added, "Right now, it's been tough. I can't lie to you." Knowing that if he was scoring more the Sabres might be in a different position in the standings, things have not worked out with Jack Eichel. Eichel at center and Hall at the wing was one of the main reasons the organization brought Hall in. The two players were supposed to explode offensively together. It's led people to wonder how quick Hall will be to re-sign, or how quick the Sabres will be to want to re-sign him.
When he joined the team on a one-year deal, there was early speculation it was a temporary move. His struggles seem to have most insiders believing he'll be trade bait at this year's deadline.
Bruins to Go After Ekholm?
Jimmy Murphy of Boston Hockey Now noted TSN's Darren Dreger comments on both Jake Virtanen and Adam Gaudette's availability out of Vancouver. Murphy believes the Bruins have looked into what it would take to trade for Virtanen and which player they'd send back.
Nashville Predators defenseman Mattias Ekholm may also be available noted Pierre LeBrun and he would definitely fill a Bruins need suggests Murphy. Ekholm would help Boston upgrade a blue line that lost a couple of key pieces over the offseason and the scribe writes, "With Matt Grzelcyk in and more out of the lineup, will Bruins General Manager Don Sweeney try to fill that second pairing left slot with Ekholm? 
Related: Rangers News & Rumors: Panarin, Trouba, Fans Back & More
Burke Drops Hint on Penguins Shift in Direction
The new President of Hockey Operations was a guest on The Chirp with Darren Millard and was asked directly if the Penguins were still in "win now" mode considering Burke had just acknowledged the ownership group in Pittsburgh understood the problems they were facing with veterans like Evgeni Malkin and Kris Letang coming up to the end of their contracts. He responded, "For this season, yep."
Adding those three simple words, "for this season" is the first real hint that this "win now" mentality will have a short shelf life. He didn't say that the Penguins would break it all down if the club is not successful this year, but he seemed to make it clear the club was only looking at this seasons when it came to adding pieces to be a contender.
He said, "Next year, we have to sit down at the end of this season and figure out for next year." He added, "They're not stupid people, they're brilliant people they know that these problems are there."
Oilers Might Move Nugent-Hopkins, Turris In Trouble
TSN's Ryan Rishaug spoke about Nugent-Hopkins contract situation with the Oilers via a series of tweets on Wednesday and pointed out that the NHL Trade Deadline is only a few months away and the two sides have not talked at all about an extension since talks broke off before the season opened.
Rishaug pointed out that the term and dollar figure is a big concern for the Oilers in a flat cap Covid environment but that the team also knows they can't let Nugent-Hopkins walk for nothing. He writes:
This is not an asset the organization would want to lose for nothing in free agency, and letting him walk out the door could be a big set back, especially considering the relationship and chemistry with McDavid. Tough decisions ahead for both these sides with clock ticking.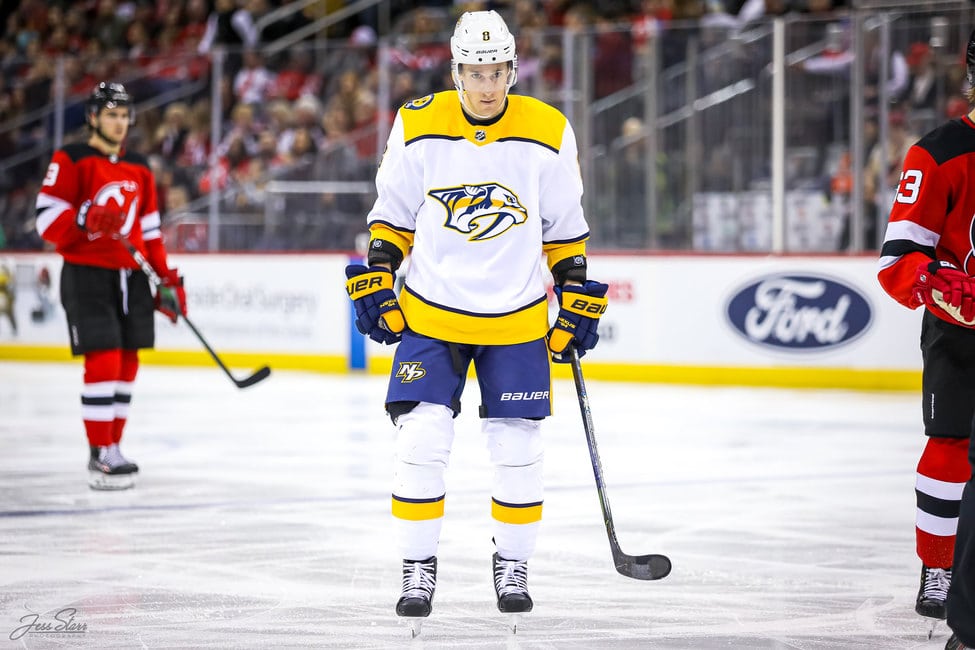 In other Oilers news, Allan Mitchell of The Athletic wonders if Kyle Turris is playing himself out of the NHL? He took a look at the center's struggles this season, how Gaetan Haas has come in and replaced him at center and how little Turris is producing. Mitchell writes:
If Turris is a winger, he's going to need to deliver more offence, and there are duties defensively (although far less than at centre).

The evidence suggests this player is at a crossroads. He'll need to reinvent himself, become a more responsible player without the puck, and find a way to score goals while getting very few touches a game.

source – 'Lowetide: Is Oilers centre Kyle Turris playing himself out of the NHL?' – Allan Mithcell – The Athletic – 02/18/2021
---
---
Catch up on all the latest NHL Rumors