report this ad
Theo Fleury, born in Saskatchewan, Canada, was one of three sons.  His father, Wally, also played hockey but an injury prevented him from reaching the professional ranks.  As with most young children in Canada, Fleury grew up skating and playing hockey at every opportunity, often traveling to the rink with his father.   Even as a child, Fleury demonstrated that determination that would eventually get him to the NHL.
Theo Fleury in Junior
Did Fleury show signs of stardom early?
Theoren Fleury began his junior career at 15 playing with the St. James Canadians of the Manitoba Junior Hockey League in 1983–84.  He would demonstrate his offensive ability immediately, scoring 33 goals and 64 points in 22 games.  During the 1984-85 season, he moved to major junior and started playing for the Moose Jaw Warriors of the Western Hockey League (WHL), finishing the season with 29 goals and 75 points in 71 games.   Fleury would go on to play 4 seasons in the WHL, his best season in 1987-88 where he tied Joe Sakic for the league lead with 160 points.
Fleury's size, listed at 5'6″, led many teams to doubt that he could play in the NHL.   As a result, he fell to the 8th round of the 1987 NHL draft and was chosen by The Calgary Flames.   After returning to the WHL for the 1987-88 season, he would also report to Calgary's International Hockey League (IHL) affiliate, the Salt Lake Golden Eagles.   He would have an instant impact, scoring seven points in two regular season games, then 16 more in eight playoff games, while leading the Eagles to the Turner Cup championship.
Fleury – The Calgary Years
As with most late draft picks, Fleury would not jump immediately to the NHL.  He was initially assigned to the Golden Eagles when he came to camp out of shape.  After averaging nearly two points a game in the IHL, recording 37 goals and 37 assists in 40 games, Fleury was called up to the Flames on January 1, 1989.  Fleury immediately demonstrated his ability to score at the NHL level, recording 34 points in 36 games in his rookie season.  He also demonstrated that, despite his diminutive size, he was not afraid to play physical and fight when needed.  In the playoffs, he added 11 more and was a big part in helping the Flames win the Franchise's first Stanley Cup.
In the following season, Fleury would score his most memorable goal against the Edmonton Oilers in game 6 of the first round of the playoffs.  While the Flames would go on to lose the series, this goal became famous for his celebration, sliding across the length of the rink.
Is Fleury's Goal Celebration one of the best ever?
Fleury would go on to play parts of 10 seasons with Calgary, his best statistically being the 1990-91 season in which he hit the 50 goal mark for the only time in his career, finishing with 51 goal and 104 points. Unfortunately, the team would not see much playoff success the rest of his tenure.
Highlights of his tenure with Calgary:
Played in his first NHL All-Star game in 1991, scoring a goal
Later in 91, set a record for 3 shorthanded goals in one game against the St. Louis Blues
Recorded his 2nd 100 point season in 1992-93
Set a single-game record for +/- with a +9
During the 1995-96 season Fleury was named the 12th Captain in Franchise History
On February 19, 1999, Fleury surpassed Al MacInnis as the Flames franchise scoring leader when he scored his 823rd career point. (Since surpassed by Jarome Iginla in 2009)
To avoid losing him as a free agent after the season, Fleury was traded to the Colorado Avalanche on February 28th, 1999 for Rene Corbet, Wade Belak and Robyn Regehr.  Fleury would play the remaining 15 games of the regular season, scoring 24 points, and then added 17 points in 18 playoff games, his longest playoff run since his rookie season in Calgary.
The Later Years
Fleury's tenure with the Avalanche did not last long.  He chose to sign with the New York Rangers in the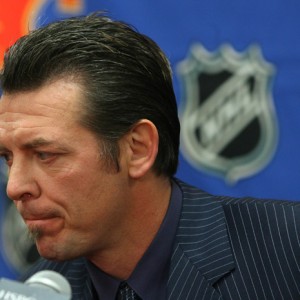 post season, signing a three-year contract worth $21 million that included a club option for a fourth year at $7 million.  His first year was not great, only scoring 15 goals, and he would enter a league operated program that treats substance abuse and emotional problems after the season.  This would not be the last time Fleury entered a program like this.
His next two seasons in NY would be much better statistically, scoring 30 goals and74 points during the 2000-01 season.  He would, however, again announce that he was entering the league's substance abuse program for a second straight year, ending his season at 62 games.  Fleury claimed that he was struggling with the lifestyle and pressure in New York.  Fleury would return the following season scoring 24 goals and63 points in 82 games as part of the "FLY" line with Mike York and Eric Lindros.  Although he played in all 82 games that year, there were several signs that his off-ice problems were still affecting him as many behavior problems showed up on the ice.  In a game against the Penguins, Fleury simply left the arena after a penalty was called, rather than skate to the penalty box.  Fleury was fined $1,000 for another incident, making an obscene gesture toward New York Islanders who had been taunting him over his problems.  Finally, Fleury again lashed out to league officials questioning whether they were treating him fairly.
After missing the playoffs all three years of Fleury's tenure, combined with his personal issues, the team elected not to exercise their option on him for a fourth season.  They traded his rights to the San Jose Sharks, however, Fleury chose to sign with the Chicago Blackhawks for the 2002-03 season.
Prior to the start of the season, Fleury was suspended by the NHL for violating the terms of his substance abuse program.  Attempting to help Fleury as much as they could, the Blackhawks even hired one of his friends, also a recovering alcoholic, to help ensure that he attended Alcoholics Anonymous meetings and followed the terms of the program.  He would miss the first two months of the season before being reinstated.  Unfortunately, problems would continue once he returned.  Fleury ended up in a drunken brawl with bouncers at a strip club in Columbus, Ohio.  He was beat up pretty bad and didn't remember the night. While not initially suspended,  the Blackhawks, placed him on waivers in March after a collapse in the standing.  Fleury would eventually go unclaimed and would finish the season with the Hawks, with 12 goals and 21 assists in 54 games.  Following the season, in April 2003, he was suspended once again by the league for violations of its substance abuse program, thus ending his NHL career.
Theo Fleury – Final Comeback Attempt
Prior to the 2009-10 season, after now being sober for four years, Fleury decided he wanted to take one final shot to return to the NHL and end his career on his terms.  Knowing full well it would be a long-shot for someone at 41 years old, he began training in February to get himself in shape for training camp, provided a team invited him.   He also had to convince NHL Commissioner Gary Bettman to lift his suspension, as he was technically still suspended from his incidents in 2003.  After meeting with Bettman, and having a full battery of tests by league doctors, Fleury was officially reinstated in September.  He was then invited by the team that originally drafted him, the Calgary Flames, to attend training camp on a try-out basis.
He made his return to the NHL on September 17, against the New York Islanders, and played with Daymond Langkow. Fleury was met with cheers throughout the game, the fans still loved him in Calgary.  He scored in a shootout to give the Flames a 5-4 win.
Fleury would ultimately play in four exhibition games, and would finish with 4 points.  Fleury would end up being released, apparently not showing that he was one of the top 6 wingers in camp, which the team and Fleury agreed would have to happen for him to make the team.  While his hopes of returning to the NHL were looking dimmer by the day, Fleury decided he wouldn't want to play for a team other than the Flames, and decided to officially retire from the NHL.  This time, on his terms, and most importantly, as a Calgary Flame.
International Experience
While playing junior hockey, Fleury would participate in two World Junior Championship Tournaments in 1987 and 1988, playing for Team Canada, winning a gold medal in 1988.
In 1987, Fleury was part of an infamous bench-clearing brawl between Team Canada and the Soviet Union in Czechoslovakia, known as the "Punch-up in Piestany." Tension began to flare when, after scoring the first goal of the game, Fleury used his stick to mimic firing a machine gun at the Soviet team's bench.  The brawl happened in the second period, starting with a fight between Fleury and Soviet player Pavel Kostichkin.  This fight quickly became a fight between all skaters on the ice and then finally all the Soviet players left their bench, followed by Team Canada.  Both countries were ultimately disqualified from the tournament, and all players were suspended from international tournaments for 18 months, later reduced on appeal to 6 months.
Theo Fleury also participated in the 1990 and 1991 World Championships, the 1991 Canada Cup (winning the gold medal), the 1996 World Cup of Hockey, and the 1998 and 2002 Olympic Games, winning gold in 2002.
Theo Fleury's Book
Following his unsuccessful comeback return in 2009 and his subsequent retirement, Fleury released his long-awaited autobiography Playing With Fire. In addition to chronicling his tumultuous hockey career, the book also revealed the details of his teenage sexual abuse during his junior hockey career at the hands of coach Graham James and the impact the abuse had on his life. The revelations prompted Fleury to eventually pursue criminal charges against James, which resulted in James spending two years in prison. Fleury's best-selling book was subsequently adapted into both a one man show with Alberta Theatre Projects and a documentary by HBO Canada.
After his book signing tours resulted in him connecting with fellow victims of childhood sexual abuse, Fleury became an advocate for victims and a public speaker on the subject. Since 2013, he's been involved in the Victor Walk – an annual event dedicated to shedding light on childhood sexual abuse and celebrating victims that have overcome these traumas (and become "victors"). A documentary on the Victor Walk was released in May 2017.
Interesting Facts on Theo Fleury
Fleury's 92 assists and 160 points for the 1987-88 Moose Jaw Warriors remain team records
He also holds the Warriors' career records for goals (201), assists (271) and points (472)
Theo Fleury has also participated in many ventures outside the sport of hockey:
In 1994, he became part of a group with a minority ownership interest of the Calgary Hitmen of the WHL, along with Joe Sakic, his former junior coach Graham James and professional wrestler Bret "the Hitman" Hart.
Fleury started a concrete sealing business with his wife Jennifer and brother Travis.  The business, called Concrete Coatings, closed in 2009
Fleury filmed a pilot episode for a reality TV series based around his concrete business called Theoren Fleury: Rock Solid.
After leaving the NHL in 2003, Fleury played for the Horse Lake Thunder of the North Peace Hockey League in 2005, a senior amateur league in Canada, for the
For the 2005-06 season, Fleury played for the Belfast Giants of the Elite Ice Hockey League in Northern Ireland, scoring 74 points and 270 penalty minutes in 34 games.
Fleury launched a line of clothing called "FAKE" (Fleury's Artistic Kustom Enterprises) in 2008
On August 9, 2008, Fleury made his professional baseball debut at the age of 40 with the Calgary Vipers, hitting a single in a pinch-hit appearance against the Yuma Scorpions in the first game of a doubleheader.
Fleury participated in the second season of CBC's Battle of the Blades figure-skating competition in 2010, paired with Olympic medalist Jamie Sale. He finished fifth.
Following six years of writing and recording songs, Fleury released a country music album, I Am Who I Am, in 2015.
The Theo Fleury Hockey Hall of Fame Debate
The Hall of Fame inducts players based on their "playing ability, sportsmanship, character and contributions to his or her team or teams and to the game of hockey in general."
Ranking Fleury
1,084 games played (202nd all-time)
455 goals (57th all-time)
633 assists (72nd all-time)
1,088 points (61st all-time)
125 power play goals (86th all-time)
35 shorthanded goals (ninth all-time)
67 game-winning goals (51st all-time)
1,840 penalty minutes (63rd all-time)
1.004 points per game (49th all-time)
34 playoff goals (126th all-time)
Why He Should Be In
There's absolutely zero doubt about the kid from Oxbow, Saskatchewan's immense talent. He was a shifty skater with fantastic hands, able to turn the league's best defenders inside out. His point totals and his seven All-Star Game appearances reveal the huge impact he had on the league during his tenure in the NHL.
His career totals are right on the edge of what it takes to get into the Hall, but while his counting numbers don't measure up to someone like Teemu Selanne, his character and contributions to his teams and the game of hockey stack up against just about anyone.
His career started with a Stanley Cup in 1989, his rookie season. He played well, but being on the team for just half a season was not enough for him to wrestle the Calder away from Rangers defenseman Brian Leetch. Unfortunately, though he was an absolute force in the playoffs throughout his career, averaging over a point per game, he never laid his hands on the Cup again.
The 1987 eighth-round draft pick (166th overall) even gave Calgary fans a heart-warming comeback story that captured the attention of the entire city. After spending time with the Colorado Avalanche, New York Rangers and Chicago Blackhawks, Fleury was given a hefty suspension for violating the league's substance-abuse policy. It wasn't the first time that substance abuse kept him off the ice during his NHL career.
But before he officially retired he proved that it was his determination that would define his career and not a history of substance abuse.
---
Related – Hockey Hall of Fame Debates: Steve Larmer
---
In 2009, at age 41 and six years removed from his last NHL game, Fleury made a valiant attempt at returning to the NHL as a sober player. He was reinstated from an indefinite suspension and took a tryout contract with the Flames. He managed to play in four preseason games and skated in front of a roaring home crowd. He even scored the shootout winner in his first exhibition. That, however, did not ultimately lead to a contract and instead of going for another tryout, Fleury called it a day. "I could not sign with another team," he said during a news conference announcing his retirement in September of 2009. "I get to retire a Calgary Flame."
"Not too many guys get to leave the game to a standing ovation and people chanting their name," Fleury said. "It was a great story."
Non-NHL Accomplishments
There is plenty to discuss surrounding Fleury's international track record. He played in two World Junior Championships, two World Championships, two Olympic Games, a Canada Cup and the 1996 World Cup. He exits all that competition with a World Junior gold, Olympic gold, World Championship silver and a Canada Cup championship. He also played a season in Belfast, Ireland, winning a championship in the EIHL after he left the NHL (prior to his comeback).
But his biggest mark outside the NHL is his contributions to the game of hockey. He was an unlikely player to hold such a momentous place in the game's history. The 5-foot-6 forward didn't fit the mold of what teams were looking for. He didn't fit the mold of the kind of player that could get his nose in the dirty areas of the ice and succeed, but he did.
Additionally, Fleury's personal story of substance abuse and enduring sexual abuse aren't something that should be swept under the rug in this discussion. Fleury overcame being repeatedly sexually molested by a coach as a young man, then overcame drug and alcohol addiction. Those aren't things to be ignored, particularly in light of how open he's been about his issues. He's used the game of hockey to help others. From young players to fellow NHLers, Fleury hasn't shied away from those discussions.
---
Related: Hockey Hall of Fame Debates: Alexander Mogilny
---
Moreover, it's not just talk. He has legitimately helped people. Brian McGrattan said as much when he was 10 months sober himself. "We've talked quite a bit when he was here," McGrattan said in 2009. "He's always there for me if I need someone to call or someone to talk to, which is a good feeling. He's been a good guy for me, obviously having similar issues. Also being in the league's program, words can't explain what it's done for me. Maybe to have a guy like him work for the league or something, I think it would be good to help players like me."
His generosity extended beyond fellow NHLers. Just look to the story of how some talented Minnesota girls were going to have to quit hockey because the family didn't have funds to pay the steep cost of playing. Fleury came to the rescue.
Why Theo Fleury Shouldn't Get In
The biggest knock on Fleury is that his numbers are high, but not quite high enough. Especially with a strong crop of first-time eligible players over the next few seasons, there are many players with more goals, more assists, more Stanley Cups and trophies on their shelves than Fleury. That's been enough to block the entrance of many before him.
Verdict
His rank on the all-time lists being two notches below player X, or because he only won a single Cup aren't enough to keep him out. No, he doesn't go in above someone like Selanne, but Theo Fleury deserves his spot in Toronto at some point in the next couple ballots for his contributions to the game. Plus, no matter what the final total is, producing over a point per game in a 1,000-plus game career is a damn hard thing to do.
While others contenders might have had more goals, Fleury gave a lot to the game and continues to. He broke the mold and holds a special place in hockey history that deserves to be recognized, if not in 2018, soon.