Jul 18, 2019
Story by Scott MacDonald
For those that have seen him play will know that Mark Alt is a gifted hockey player. What many may not know is that his career in hockey almost never even happened at all.
The Colorado Eagles' captain grew up in bonafide football family. Alt's father, John

Alt, is a former first-round pick of the Kansas City Chiefs of the National Football League. And the elder Alt had a pretty illustrious career playing left tackle in the NFL, too. He enjoyed a 13-year career in Kansas City, earning two trips to the Pro Bowl and was later inducted into the Kansas City Chiefs Hall of Fame.
From the start, naturally, it only made sense that his son would grow up playing football, which he in fact did. The plan was for him to follow in his father's footsteps, and perhaps, too, one day become an NFL Pro Bowl player just like his dad.
And that was the plan all along, too. That is until one of Alt's former neighbors threw a wrench — or rather, a hockey stick — in his football career plans.
"I was playing out in my driveway when I was probably five or six [years old], and my neighbor came by with a car full of hockey sticks because his son had just quit hockey and he wanted to know if I wanted his sticks," reminisced Alt. "So I started messing around in the driveway, and long story short, my other neighbor saw me playing with those and asked me to go to his kid's practice.
"And that's kind of the story from there. I started playing at the local rink and that's how it got started."
Alt had found his own thing — and his own passion — in the sport of hockey, and he hasn't put down the stick since. Though he picked up the new game, he still found some time for football, too. After all, he was pretty good at it.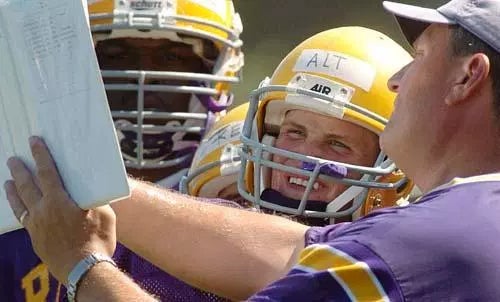 When his father had retired from the NFL in 1996, he began coaching at Cretin-Derham Hall High School in Minnesota. This, too, is where Mark Alt's career in football began to take off. In addition to playing hockey there, the younger Alt was also a standout quarterback for the Cretin-Derham Hall Raiders, and he even led his team to a state championship during his senior season. Following that, he earned Minnesota Player of the Year honors.
Indeed, Alt was a pretty decent football player. So good, in fact, that he received some Division I college football offers. During his senior year, Alt earned a scholarship offer to play quarterback for UCLA, Stanford and the University of Iowa, which is the very same school that his dad had played college ball.
Now, Alt was at a two-sport impasse. Football or hockey? That was the life choice that Alt had to face as a senior in high school. Not making it any easier on him was the fact that his parents made it very clear which route they wanted their son to take.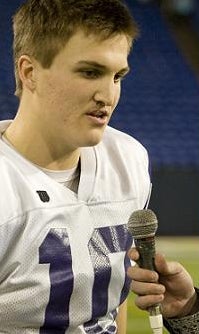 "I was literally back and forth everyday," Alt said of his big decision. "The funny story is that my mom — obviously my family is diehard football fans, my dad played at Iowa, my mom wanted me to go to Iowa — she's wearing black and gold something everyday leading up to National Signing Day. They weren't hiding at all where they wanted me to go."
It took Alt up until National Signing Day, the day in which high school athletes sign their letters of intent, to make his final decision. And much to the dismay of his Iowa football-loving parents, Alt instead chose the University of Minnesota. And not to play football, either, but rather to pursue his career in hockey.
With so much parental pressure, it was no easy choice for the budding two-sport athlete.
"It could have gone on for another two months," Alt said of his decision making. "…but it took me up until that last day to decide what I was going to do."
While there's no doubt that Alt's father is proud of his son and his career in hockey, at the time, it was a bit of a letdown for his dad.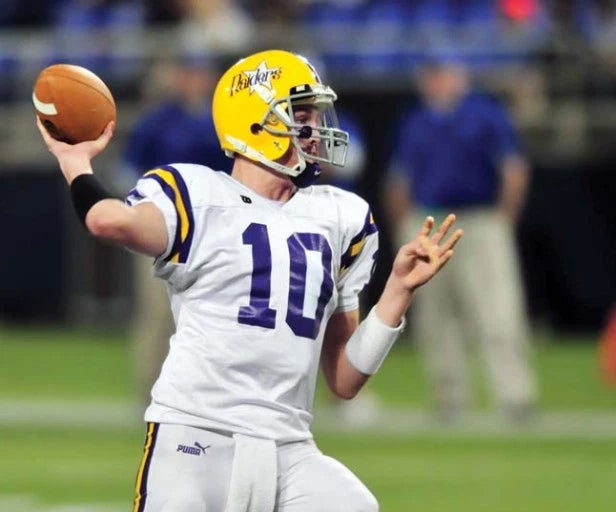 "From his perspective, the guy played 13 years in the NFL and he wanted me to play football, there's no hiding that," admitted Alt. "I love football, it was what I did growing up so definitely it was hard for him, it was hard for me. It was a tough time."
When asked if there was any added pressure to succeed at hockey following his decision, Alt agreed.
"It absolutely was a little push," he admitted. "You got to get drafted, you got to get out of college, you got to play pro. There was a little extra push when I decided to play hockey."
But almost immediately, Alt's decision to play hockey paid dividends. The Carolina Hurricanes selected Alt in the second round of the 2010 NHL Draft, giving some validation to the young Alt's tough choice.
Now, captain of the Colorado Eagles, Alt is climbing the ranks of the pro hockey world. And there is no doubt he's making his parents proud, too. There's no saying what would have been had Alt followed in his father's footsteps, but one thing's for sure, he doesn't regret anything about the choice he made.
"No, not at all," he said. "It's all happened for a reason, it's all been really good. I'm really happy with it."