It's never easy to analyze a trade, especially when players involved in the deal are still playing in juniors. A lot of things factor into a move like the one that saw the Brayden Schenn trade to the St. Louis Blues on NHL Draft Day 2017. What many seem to forget is that this wasn't a one-for one-trade—the Flyers didn't simply give Schenn away.
Now named to the All-Star Game, many seem to think trading him was a huge mistake. How does it really look in the grand scheme of things?
Why Schenn Had to Go
Flyers general manager Ron Hextall had no idea he was going to obtain the second overall pick in the NHL Draft Lottery. Once he knew he was going to select Nico Hischier or Nolan Patrick (both centers), he knew he would have too many players down the middle. Schenn is a natural center but played on the wing most of the time due to the logjam of centers in the system. Trading him gave head coach Dave Hakstol the option to move one of Claude Giroux, Valtteri Filppula or Jori Lehtera to the wing, which worked out well for Giroux.
Now that they didn't to worry about playing Schenn in his natural position, they could easily roll with Couturier, Filppula and Patrick as their top three centers.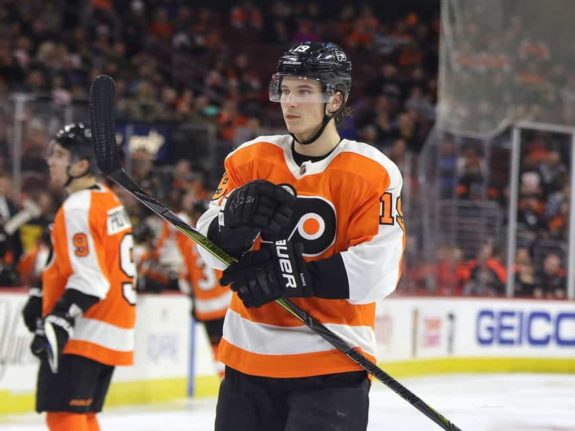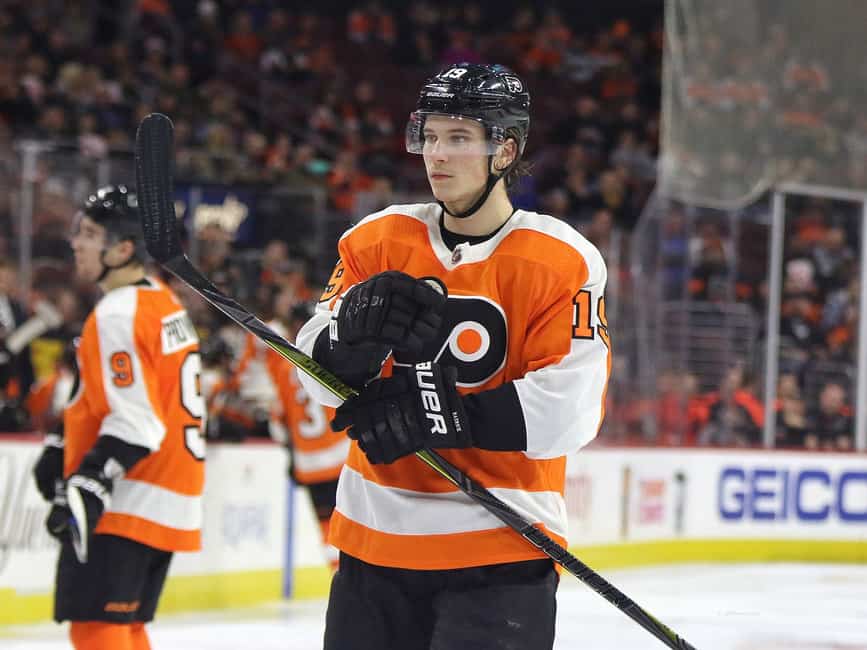 For the Blues, they were looking to add someone who could take on the role of a first line center. While he was never given that opportunity in Philadelphia, he did manage to produce on the wing with some talented players. Knowing he could be slotted between Jaden Schwartz and Vladimir Tarasenko, Blues general manager Doug Armstrong knew Schenn could step in as the center. He pulled the trigger on the deal but gave up a lot in the process.
Blues & Flyers Acquisitions
The Schenn trade was not easy. A lot of people liked him as a player, but a lot disliked him too. He would often receive criticism for his lack of even-strength production, which was very apparent last season. Out of his 25 goals in 2016-17, 17 of them were on the power play, 28 of his 55 points were on the man-advantage and his ability to drive play was very weak.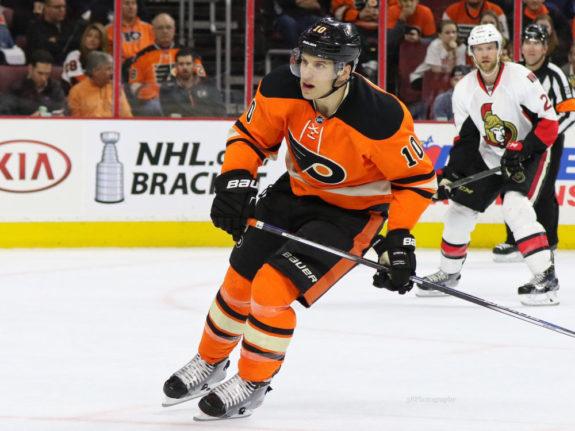 The year before that, his production was not a concern; he tallied 59 points, 37 of them were at even-strength and he had 26 goals, 11 of them at 5-on-5.  Most of those can be credited with playing with Claude Giroux, but he was still very good that year. Schenn was a liability defensively, turning the puck over at the worst times, missing his coverage in the defensive zone, not backchecking, etc.
For Schenn, the Flyers received Jori Lehtera, a player who entered only his fourth NHL season at the start of the campaign and has declined in points every year. His production is not what they sought after though, his cap hit of $4.7 million over the next two years is what made the trade go through. Schenn has a cap hit of $5.125 million over the next three seasons and the Blues needed to dump a bad contract, which Hextall had no problem taking since he also took the Blues' first-round picks for the next two years.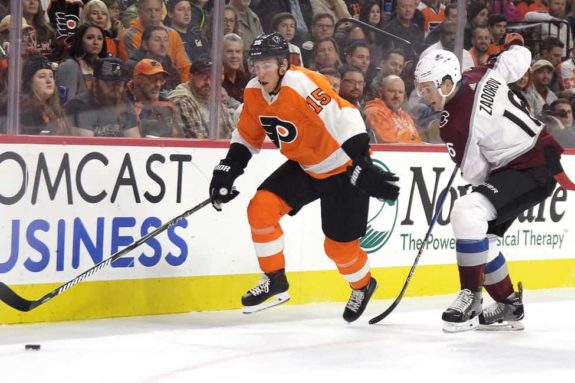 Now, you can put it any way you want, but there are very few players in the NHL that are worth two first-round draft picks, even if they are in the bottom tier of the round. Hextall was very patient and waited for the right deal to come through and it paid off by acquiring the 27th overall pick of the 2017 draft and a conditional first for next year.
With the said 27th overall pick, they selected Morgan Frost, who wasn't the biggest name on the board but was regarded as a highly skilled playmaker with a lot of poise, defensive instincts and great skating. The pick was confusing at the time, considering Finnish sniper Eeli Tolvanen was still available, but Hextall had a lot of confidence in Frost's ability.
Now, in January 2018, the pick is looking like a steal with Frost leading the Ontario Hockey League in points (71), assists (44) and plus/minus (+50). He is also fifth in goals with 27, first in primary points (57) and his Sault Ste. Marie Greyhounds have recently added winger Taylor Raddysh to play on his side, which is only a good thing for Frost. In addition to the young OHL star, the Flyers will have another first-round selection coming from St. Louis in this year's draft.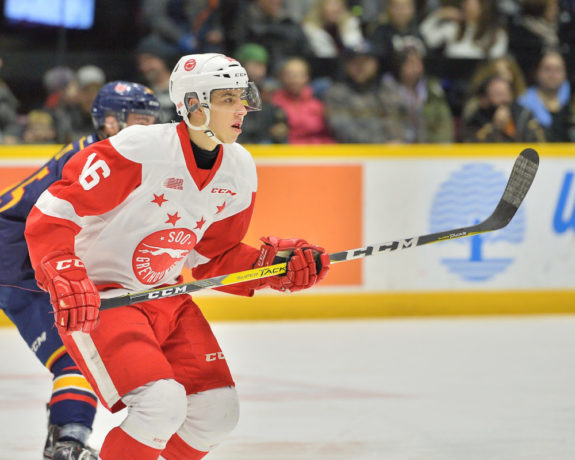 Can Schenn Lead the Blues?
It is very hard to assess a winner for this trade at the moment. The Blues look fantastic with Schenn in the lineup but gave up a lot to acquire him. He can bring a physical element to a game and he appears to be much faster and more confident with the puck, something that lacked when he played for the Flyers.
Schenn is also showing he can be a threat at even-strength this year, scoring only 12 of his 44 points on the man-advantage. However, it is also fair to say he has benefited from playing with Jaden Schwartz and Vladimir Tarasenko. Schenn did a lot of damage at the start of the year, scoring 30 points in his first 23 games, but since Schwartz got injured, Schenn has tallied eight points in 16 games, two of them goals.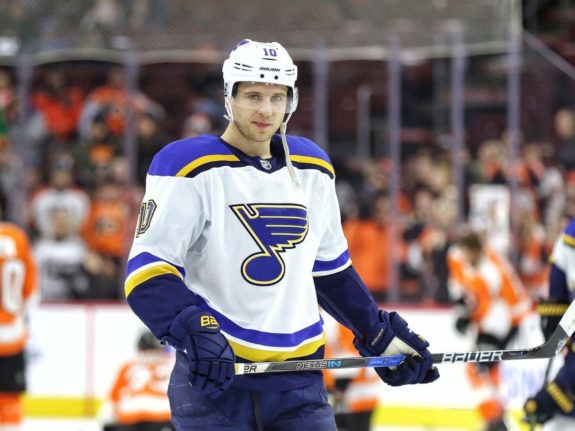 As for the Flyers, they gave up a player who could score goals on the power play, but added to their collection of prospects and picks in a big way. Frost is standing out this year and he could be a steal down the road. The biggest loss definitely came from acquiring Lehtera, but he was not expected to match Schenn's offensive output.
If the Blues manage a deep playoff run, with Schenn being a key contributor, I think it's safe to say the picks were worth giving up, but Schenn is a streaky player and might not come alive in the playoffs like he has during the regular season.