Few players in the NHL have dealt with a rollercoaster-like career quite like the one Phil Kessel has. From being drafted high in the 2006 NHL Entry Draft to his battle with cancer and subsequent trade to the Toronto Maple Leafs, Kessel's career started off with as many peaks as it had valleys. After a tumultuous time in Toronto, Kessel's trade to the Penguins seemed to finally establish him as one of the most likable guys in the entire NHL. It also made him a two-time Stanley Cup champion. Now, he's set to start a new chapter with the Arizona Coyotes.
Let's' take it back a bit, though, and look at Kessel's life and career as a whole.
Kessel's Early Years
The 2008-09 regular season had been a great one for the Boston Bruins, and especially for young forward Kessel.  After two mediocre seasons and health-related setbacks, Kessel was finally coming into his own and showing why he was a highly regarded player that was once considered a possibility for the No. 1 overall draft pick.
Born on Oct. 2, 1987, in Madison Wisconsin, Kessel comes from a family of athletes.  His father, Phil Kessel Sr. was a college quarterback and was drafted by the Washington Redskins of the NFL.  His mother Kathy ran track in college.
Phil's brother Blake was drafted by the New York Islanders in the 6th round of the 2007 NHL Entry Draft and sister Amanda (more on her later) has made a name for herself as one of the very best women hockey players in the world, winning the 2007 under-19 national girls championship as a freshman with the famed high school hockey program at Shattuck St. Mary's in Faribault, Minnesota prior to showcasing her talents in the NCAA, NWHL and at the Olympic level.
Bob Suter's Influence on Kessel
For the majority of Phil's early days in hockey, he played for the Madison Capitols, coached by Bob Suter.  If you think you recognize that name it is because Bob played for the 1980 USA "Miracle on Ice" team that won gold at the Olympics, but you may also recognize the name because of his younger brother Gary Suter who had a stellar 17 year NHL career. You could also be thinking of Bob's son, Ryan Suter, who is a star defenseman with the Minnesota Wild.
Related – The Bob Suter Story, The Power of Twenty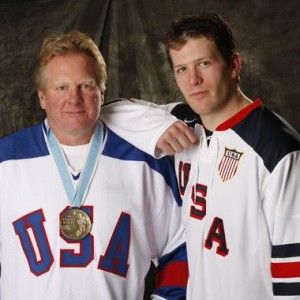 Phil has, on many occasions, credited Bob Suter as a big reason why he is in the NHL today.  Suter coached him from the time he was 7 years old up through his early teenage years and credits Phil as the big reason the Madison Capitols thought they could win every game.
"They always knew Phil was there and he would always come through to get a goal or two to get us back in it or to win the game or set somebody else up to do it," Suter said back in 2009. "He had great speed even when he was young compared to a lot of other kids and he was just a natural goal scorer."
Ask Kessel about his most memorable moments as a youth hockey player and he will tell you the year the Madison Capitols advanced all the way to the triple-A bantam national title game.  While they lost the title game to the bantam version of the L.A. Kings, it was still a great season for the team and for Phil personally. During the 2001-02 season, Kessel, 14 years old at the time, would finish with 186 goals and 286 points in 86 games.  It was around this time that Phil's coach Bob Suter knew he had a future star on his hands.
Making Strides as a Star
The following season Kessel would play for the midget triple-A version of the Madison Capitols and finish the season with 113 goals and 158 points in 71 games.  After the season Kessel turned 16 and left Madison for Ann Arbor, Michigan to play with the U.S. national team development program – a move that would serve him well in the long-run.
In his first season, Kessel took the program by storm scoring 52 goals and 82 points in 62 games.  The following year he would be even better, matching his goal total of 52 from the previous season and adding more assists for 98 points, but this time in only 47 games.  Kessel would also lead Team USA to the gold medal at the 2005 World under-18 Championship with 9 goals and 16 points in only six games.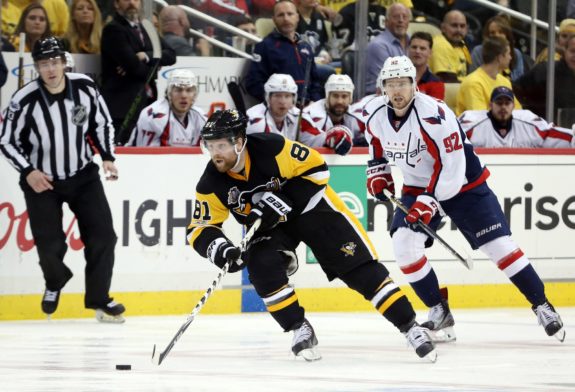 At this point in his early career, Kessel was being touted as a prospect comparable to Sidney Crosby and one of the future superstars of the NHL. Missing the cutoff for the 2005 draft by one month, Kessel was so talented that he was projected to be the top overall pick by many in 2006. Unfortunately, Kessel would experience a few setbacks during his 2005-06  season that would hurt his status for the draft.
In 2005, Kessel decided to enroll at the University of Minnesota and play hockey for the Golden Gophers.  The team that year was heavy on talent, including Kessel's future teammate in Boston, Blake Wheeler. The roster was so deep that Kessel was playing third line minutes with the team at times.  While he had a very good season for a freshman with 18 goals and 51 points in 39 games, winning the Western Collegiate Hockey Association's Rookie of the Year honors, it was not as spectacular of a season as many expected from him based on his domination at the World under-18 tournament that year and his career with the U.S. development program.
Hurting his draft stock even more, he underwhelmed the hockey world at the 2006 World Junior Championships.  Considered the most talented player on the team, Kessel would score only one goal, although he did add 10 assists, and the team finished in fourth place.
Drafted High Nonetheless
While his stock may have dropped, Kessel was still considered a top prospect and was drafted fifth overall by the Boston Bruins in the 2006 NHL Entry Draft behind Erik Johnson, Jordan Staal, Jonathan Toews and Niklas Backstrom.
Kessel made the Bruins as a 19-year-old and made his debut during the 2006-07 hockey season.  Unfortunately, not even halfway through the season, Kessel would experience another setback. This time, unfortunately, that setback extended far beyond the world of hockey.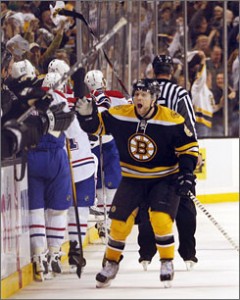 In December of that year, Kessel was hospitalized for testicular cancer.  It came as a shock to many in the organization and across the league that someone so young would be stricken with something so devastating.  After treatment to remove the cancer, Kessel would be declared cancer free and would return to the Bruins a month later in January missing only a handful of games.
It was one of the scariest times in recent memories for the Bruins and for Kessel, but the situation was taken care of and all was well in the end. It was enlightening for Kessel as a person and has shaped his mindset, even to this day.
Kessel would finish the season with 11 goals and 29 points in 70 games, hardly top numbers for a rookie.  He did show flashes of his ability though, scoring a hat-trick in the NHL's Young Stars game, He also led rookies with four shootout goals, all of which were the game-deciding goals.
At the end of the season, Kessel was awarded the Bill Masterson Memorial Trophy (for perseverance, sportsmanship and dedication to hockey).
Looking Towards the Future
Eager to put the setbacks of his past behind him, Kessel was ready to start the 2007-08 season fresh.  He improved in every category scoring 19 goals, 37 points even improved in an increasingly frowned-upon stat in plus/minus as he recorded a minus-6 rating compared to the minus-12 rating he had from the year before.  The Bruins were also improving as a team and made the playoffs for the first time since the 2003-04 season.  It was in the playoffs, however, that Kessel appeared to be blossoming.  While the Bruins did not advance, Kessel would score 3 goals and 4 points in the 4 games and was one of the Bruins' best players.
Kessel carried over his success to the 2008-09 season.  Through 67 games, Kessel has scored 31 goals, 54 points and is a plus-19 rating.  His Bruins have clinched the Eastern Conference title and are looking to make a serious run in this year's playoffs.  It appeared that Kessel had arrived and the sky was the limit for future production. Things didn't go quite so simply, however, as trade rumors began to swirl. Kessel was eventually traded to the Toronto Maple Leafs in a deal that shook up the Atlantic Division and would have lasting effects for years to come.
Trade to the Maple Leafs and Struggles With Media
After being traded to Toronto, Kessel's status as a star was cemented in the NHL. An instant star with the Maple Leafs, Kessel never scored less than 20 goals with the team in his six seasons with the team, including the lockout-shortened 2012-13 season. From his last season in Boston to his penultimate season in Toronto, Kessel scored over 30 goals in five consecutive full seasons (omitting the 2012-13 season for obvious reasons), four of which coming with Toronto in 2009-10, 2010-11, 2011-12 and 2013-14.
Still, despite Kessel's ability to score and produce points at an elite level, the Maple Leafs struggles continued year in and year out. In his time with the Maple Leafs, the franchise only made the postseason one time in 2013. To Kessel's credit, he did score four goals and six points in seven games. Losing the series (especially in the form of a massive collapse against his former team in the Bruins) led many to point figures at some of the bigger names and bigger contracts on the team as problems, however.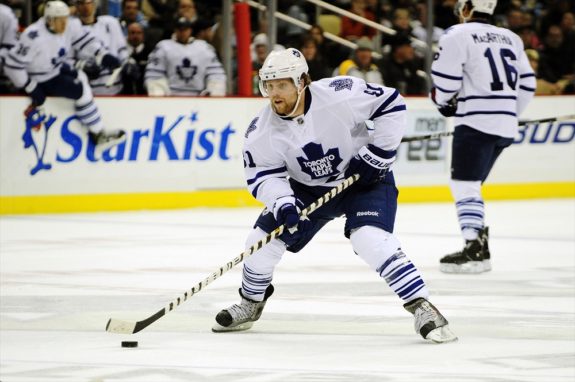 While Kessel was far from the problem on the Maple Leafs roster, the string of consecutive unsuccessful seasons coupled with his inability to handle major media outlets led to a constant struggle between Kessel and the media. Some people simply aren't able to cope with the pressure of large media markets such as Toronto, Montreal or otherwise. While Kessel proved to be an elite player in the NHL, his days with the Maple Leafs soon became numbered. That ultimately led to his trade from Toronto to Pittsburgh in a move that ultimately changes his career and accelerated the rebuild for Toronto in the process.
Penguins Star and Rising
When Kessel was traded to the Penguins, he quickly became a fan-favorite. His skillset blended well with the team as well and his status as a star seemed better understood in a smaller market than Toronto. Staying consistent with his career totals, Kessel scored 26 goals and 59 points and played in every game of the season (something he'd done in each of the previous five seasons and eight times in his career, not including the 2017-18 season which could make it eight consecutive seasons and nine total).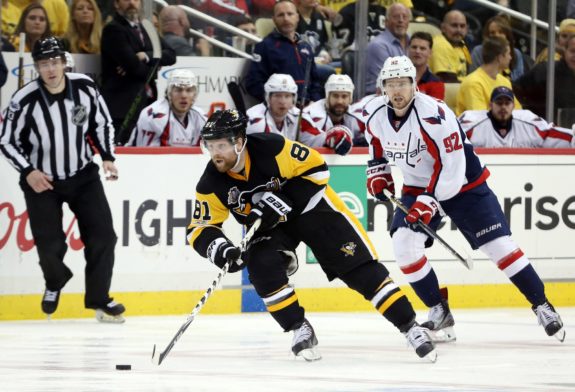 During his time with the Penguins, Phil Kessel scored a total of 110 goals and 303 points in 328 games. He even scored a career-high 92 points with the Penguins in 2017-18 and tallied over 30 goals for the first time since 2013-14.
Even in his championship years, however, Kessel's history with Cancer hasn't taken a back seat. Rather, it's maintained its spot at the forefront of his mind.
When watching Phil Kessel – both on and off the ice, it's not hard to see why he's such a fan-favorite across the NHL. Despite this, he'd still find himself moved once again during the 2019 offseason. This time, to the Coyotes.
Kessel's New Chapter in Arizona
While Kessel found a great deal of success in Pittsburgh and even went on to  win two Stanley Cups with the Penguins, his stint with the team was ultimately shortlived.
Traded to the Coyotes in exchange for Alex Galchenyuk and Pierre-Olivier Joseph, Kessel is now set to reunite with head coach Rick Tocchet.
This is significant as Tocchet and Kessel geled very well together when Tocchet was working as an assistant with the Penguins. Dubbed "The Phil Whisperer" and getting the best out of Kessel during their time together in Pittsburgh, Tocchet will get another opportunity to utilize Kessel to the best of his abilities.
Related: Penguins Trade Kessel to Coyotes
"I'm very excited to be part of the Coyotes," Kessel said of the deal. "Me and Rick [Tocchet] have a good relationship, excited he's going to be my coach, looking forward to doing great things in Phoenix. … I'm just coming in to do what I do best, try to help the team win as many games as possible. I think they're a good up-and-coming team. They've got a lot of great pieces in place, lot of good players."
The Coyotes are indeed an up-and-coming team and adding Kessel to the mix could do wonders as far as adding a bonafide star scoring option to a team that otherwise lacked such a piece.
Amanda Kessel Shining
While many focus on Phil as one of the best hockey players on the planet, it's often forgotten that his sister is as good a hockey player as it gets as well. Amanda Kessel, the star US-born player, has found success at just about every level of hockey she's played at. Whether it be the NCAA, the NWHL or on the international level.
How much success has she had? On an individual level, Kessel scored a remarkable 108 goals and 248 points in 136 games while playing for the University of Minnesota. That's 0.79 goals per game and a jaw-dropping 1.82 points per game. It's no surprise then that she is also a three-time NCAA champion, winning the title with Minnesota in 201-12, 2012-13 and 2015-16.
At the NWHL level, Kessel, the league's highest-paid player in 2016-17, scored four goals and 18 points in eight games, good for 2.25 points per game while also adding an assist in one postseason game that season. Kessel has also scored three goals and six points in five Olympic contests, six goals and 24 points in 15 World Championship games as well as 10 goals and 30 points in 10 World Junior Championships U18 games. There's simply no questioning the impact that Kessel has on the ice.
Not only has Amanda Kessel represented the United States multiple times, but she's also a proven champion at the international level as well. Competing in the Olympics as well as the World Championships, Kessel took home a gold medal from the 2018 Olympic Games in Pyeongchang, South Korea, a silver medal from the 2014 Olympic Games in Sochi, Russia as well as two gold medal in 2013 and 2017 at the World Championships and another silver medal in 2012.
Both Phil and Amanda have found a great deal of success in their career. Whether it runs in the genes or not, it's impressive that the siblings have both become faces in their respective leagues in the same sport.
Did You Know?
Kessel has the record for career goals and points with the U.S. National Development Program – 104 goals and 180 points
Tied for single-season goal record with Patrick Kane – 52 goals (US National team)
Kessel is the United States National Under-18 Team's all-time leader with goals 16, assists 10 and points 26
Kessel is the first rookie to win the Bill Masterson Memorial Trophy
Kessel tied with Ed Olczyk for the longest point streak by a U.S.-born player in NHL history (18 games) prior to Patrick Kane beating the record in 2015. He had 14 goals and 14 assists, 28 points, on that run.
Prior to his trade from Boston, he had 9 game-deciding shootout goals in his NHL career, the most of any Bruin.