To make a living as a hockey player you have to be tough. Ice hockey isn't a sport for the faint of heart or those that can't overcome the pain that goes into playing such a chaotic, beautiful game. Colorado Eagles forward Cody Bass has built a career off grit and toughness.
The Owen Sound, Ontario, native fits the description of what they call a tough customer. However, the scars that have accumulated over the years have taken a toll on the 32-year-old centerman. Bass has concluded that he's laced up his skates as a professional hockey player for the last time.
"Over my career I've had a ton of injuries, and my body just doesn't feel the same way anymore," Bass said. "I think going into the summer and trying to look for an opportunity to play again, but nothing really (happened). It was one of those things that was a mutual decision. For me, I was done with the game, my body was telling me 'no more,' but my heart was telling me to play, [and] the game was almost telling me that 'it's my time.'"
Retirement from the sport you love is difficult for any athlete: a hard reality to face. As Bass makes his transition, it's clear he wants to stay involved with the sport, but he is optimistic about opportunities in other fields of work.
Advertisement
"I'm working on my real estate license," Bass said. "I'm hoping that will provide something for me in the future. … I'm really trying to look for an opportunity to stay in the game. I have a dream and a passion to work players and possibly being a coach of some sort in the future. That's something I'm trying to pursue right now."
During his 13 year career, Bass was an intimidating presence. The veteran, lacking a few front teeth, wasn't somebody you'd want to cross paths with walking down a dark alley. But for those that know Bass, like his teammates, the intimidation is more of an on-ice persona.
Bass is beloved by the fans and the guys in the locker room, and for the younger players on the roster, he's shown them what it means to be a true professional.
"He's very intelligent in all aspects," forward Logan O'Connor said. "He knows his way around everything, honestly, business-wise, hockey-wise, lifestyle-wise. He's done a great job helping young guys. He's been a constant resource [for us] to go to and a good guy to bounce ideas off of, lifestyle or personal, whatever it may be."
Bass' struggles with injuries can be attributed to his physical, tough-as-nails style of play, but the previous season was a real test to his psyche. Nevertheless, the forward has found a way to make an impact with the club while being limited in his role on the ice.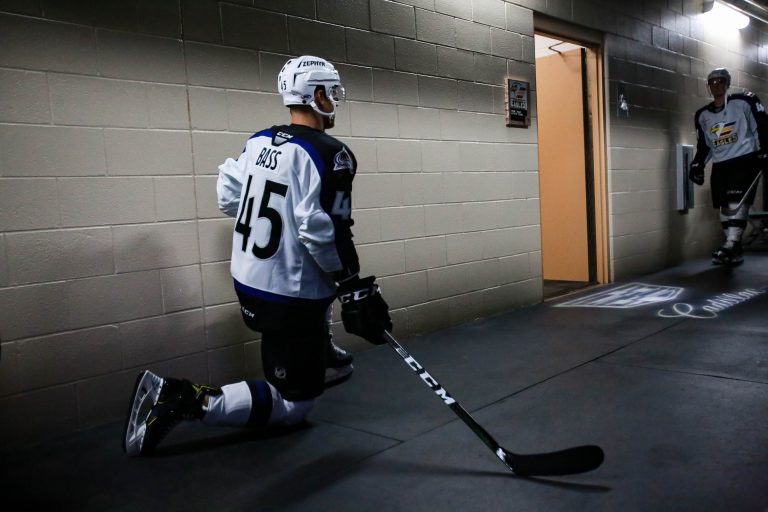 "(Last year) was a frustrating year for me, personally," Bass said. "It's my 12th year. I've been injury bit(ten) throughout my career, but it gave me time to work with some young guys that are here. … Injuries are injuries; there's not much I can do."
After taking a shot to his face and losing teeth earlier this season, Bass had several ailments that have kept him out of the lineup. At one point this season, Bass had broken a bone in his face, which required him to wear a face shield. Bass fought twice during three days in February while wearing the face shield; he removed his helmet before each fight.
"He's a leader on our team," said forward Shane Bowers. "He leads by example on and off the ice, night-in and night-out. We know what we're gonna get. He's one of our hardest workers and really (made) a difference for us."
Mentoring the younger guys is something Bass took pride in this past season, with the average age on the team listed at 21 years old. The end goal for every hockey player is to play in the NHL, but Bass kept the young guys grounded and reminded them it's a long road making a career in pro hockey, and patience is a virtue you need to have.
"The biggest thing is being patient," Bass said. "When guys come over from junior or over from Europe, they have to be patient within their game and with their development. Things aren't (going to) happen for them overnight. The biggest thing I tried to teach is patience and routine. Playing at this level and the (NHL) is about finding a routine, figuring out your body and what works for you, and every day trying to maximize (your) potential and better yourself."
While he was only in the NHL for a short stint, Bass knows the rigors that come with making the NHL and sticking in the league. And if you ever get your shot to play at the top level, you need to be ready for the opportunity.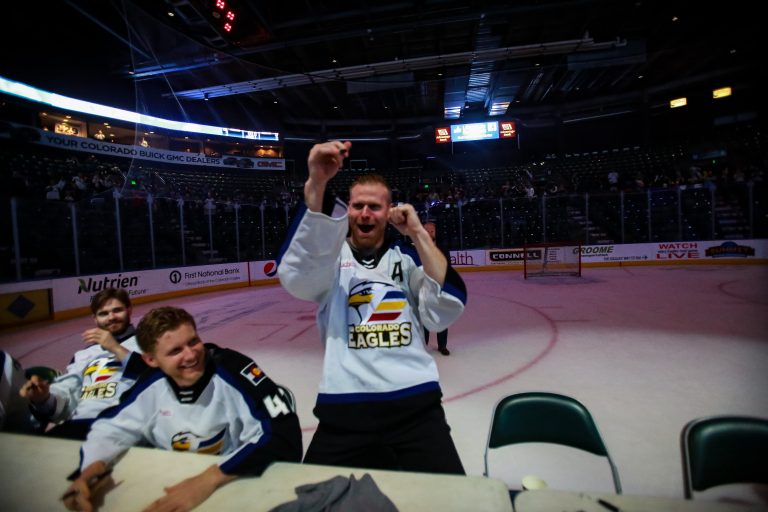 "I didn't make my first NHL team out of camp until I was 28," Bass said. "I made Nashville one year, then I got sent down on Christmas. Nothing happens right away for some of the young guys, and I think some will get more opportunities than others, and that's just the reality of the game we play. The mental side of the game for the young guys and how strong or weak you are, and your attitude, is (going to) determine what their career holds for them."
Heading into the offseason, Bass had done his share of reflecting and planning on the next chapter of his life. The veteran will get a chance to practice some of the wisdom he's been preaching to his younger teammates: patience and passion are synonymous with success.
"I don't think you can rush into anything," Bass said. "I think I have to be patient with reality, (be) patient with finding what I'm good at, what are my passions. Life's all about opportunity, and I just have to find an opportunity that fits here, and whether it's real estate, hockey or coaching, whatever that may be, I just need to stay patient and try to chase after something I'm really passionate about."
Ryan Loberger can be reached at sports@collegian.com or on twitter @LobergerRyan.
Comment policy: The Rocky Mountain Collegian encourages discussion and discourse within our comments section, but we reserve the right to moderate and ban users for the following behaviors:
Hate speech or slurs based on race, gender, sexual orientation, religion or creed.
Ad hominem (personal attacks) against another commenter or writer.
Proselytizing (

attempting to convert others to your religion

) or otherwise advertising your religion or attacking someone for theirs.
Doxing (posting someone's address or personal information) in order to intimidate a writer or another commenter.
Spamming our website with promotional offers or links to other sites.
Off topic conversations not pertaining to the article or content.