In today's NHL rumor rundown, there is news on Zdeno Chara and speculation that his return to the Boston Bruins is not a given. Meanwhile, there are five teams interested in free agent Erik Haula and the Edmonton Oilers are no longer talking to Ryan Nugent-Hopkins about an extension. Could the Coyotes be bringing in a former Toronto Maple Leafs center on a tryout and, speaking of the Leafs, are they really the favorite to win the new North Division?
Chara Has 20 Teams Interested
According to Pierre LeBrun of TSN, Zdeno Chara's agent Matt Keator says that his client has had more than 20 teams reach out and express interest in signing the veteran free agent defenseman. LeBrun notes that Chara is expected to have talks with the Bruins in the next few days and the Bruins are still his number one choice.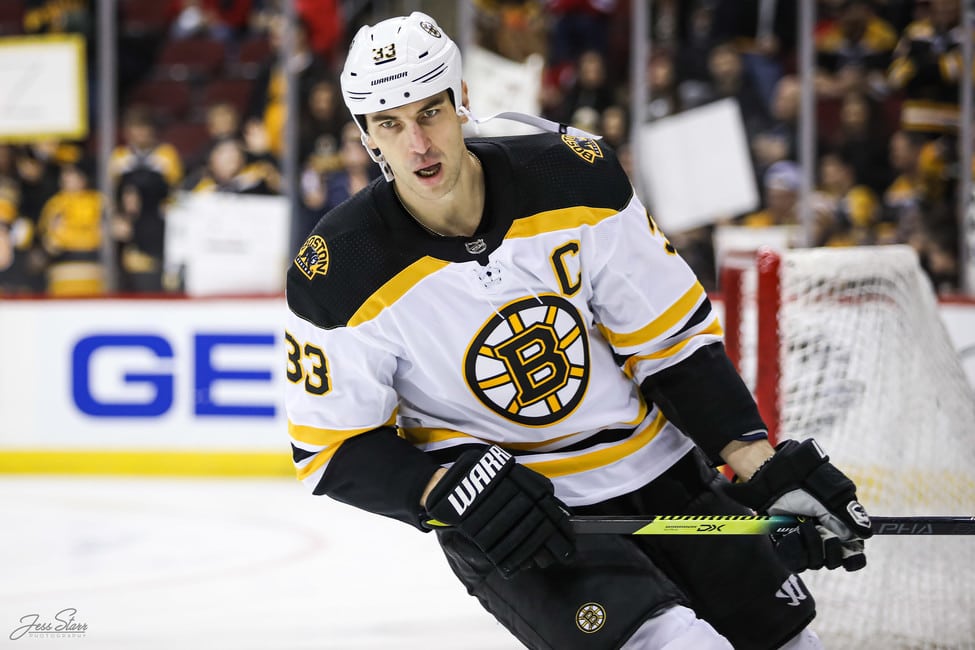 The agent notes, "He still has the option to retire. But he seems very interested in playing if it's the right fit.'". Now that the NHL has determined they'll be returning on the 13th of January, it's time for Chara to make a decision on his playing future. He seems to want to return to Boston, but certainly has options if the Bruins elect to go with some of the younger guys, which Cam Neely hinted they might do.
It would be a bit shocking not to see Chara return to Boston on a one-year deal, but if there are 20 teams interested, perhaps the money is better elsewhere.
Related: Blackhawks' Roster Competitions To Watch in Training Camp
Maple Leafs the Favorite in North Division?
NHL analyst Justin Bourne recently joined the hosts of the Good Show to talk about the North Division (all-Canadian Division) and said he expects that division to be almost exclusively offense with very little defense.
Of note, he said the Toronto Maple Leafs should be excited about that because they are a team that is notorious for their style of play and that in a division that doesn't focus much on defense or has some of the worst defensive teams in the NHL, they can shine. In fact, he noted they were favorites to win all 56 games they play in the 2020-21 season.
Five Teams in on Haula
According to David Pagnotta of The Fourth Period, there are at least five NHL teams who have circled back and checked in on the status of free agent center Erik Haula. A player who could be a strong middle-six forward for a team, it's not surprising that clubs are calling now with so little time left before the season to see where he fits.
The teams interested weren't disclosed but speculation is that he might sign  a one-year deal and test the free agent market again in the upcoming offseason. Could teams like the St. Louis Blues (who are also rumored to be in on Mike Hoffman), Columbus Blue Jackets, Nashville Predators and Philadelphia Flyers be among the five?
Gauthier Trying Out With Coyotes?
Former Toronto Maple Leafs center Frederik Gauthier might be heading for a tryout with the Arizona Coytoes after the Leafs chose not to qualify him on an extension and brought in Joe Thornton instead. Elliotte Friedman of Sportsnet reports that Gauthier could have tough battle on his hands in a crowded Arizona bottom-six.
Oilers Stop Talking to Nugent-Hopkins About Extension
Edmonton Oilers GM Ken Holland spoke with the media on Monday and noted that Ryan-Nugent Hopkins contract extension talks have stopped for the time being. Noting that it's still his plan to sign Nugent-Hopkins, he said the change in market changed their conversations.
Holland added:
"The marketplace has changed so much, that, basically our conversations have ended and I would hope that at some point in time here, once we get up and running, we can pick up and see if we can find a solution."
In the event that talks don't pick up again until after the NHL Expansion draft, that's not the worst situation for the Oilers. If Nugent-Hopkins is a UFA through that draft, the Oilers don't require protecting him and it can benefit which direction they take and assist in their not losing another player.
Idea of Outdoor Games Not Panning Out
There are a few teams that have looked at outdoor games for the upcoming season. The Carolina Hurricanes, Boston Bruins and Los Angeles Kings but most of those teams have dropped the idea.
Either the financial return wasn't there or there were too many cases of the virus to hold outdoor games safely. For example, right now it's only 10 percent outdoor capacity in N.C. so it doesn't make sense financially for the Hurricanes to go that route.
Catch up on all the latest NHL Rumors