It's safe to say 2020 has not been the year many of us were expecting when we screamed "Happy New Years" at midnight on Jan. 1, 2020. Still, through all the bad that has happened in the world this year, there have been bright spots.
Those bright spots for the Vegas Golden Knights have been the continued success they enjoyed this past season, clinching a second Pacific Division title in the past three years, claiming the Western Conference first-seed in the NHL playoffs and reaching the Conference Final, where they ultimately lost to the Dallas Stars.
In a season filled with success it would be hard to wind it down to only five of the best moments, but we will do our best. So, without further ado, here are the top five moments of the Golden Knights' 2019-20 season.
5. Acquiring Robin Lehner
Trade deadline day in 2020 turned out to be an exciting one, especially for Vegas fans, as their team took a step in eliminating questions in the crease and acquired Robin Lehner.
Lehner was having an awesome season with the Chicago Blackhawks in 2019-20, putting up a solid record of 16-10-5. Those numbers may not pop out to you as "amazing," but considering the team he had in front of him, those numbers are more than good. Still, solid play in the Chicago crease couldn't secure him a permanent spot in the Blackhawks organization. He was deemed replaceable and put on the trading block. Cue the Golden Knights.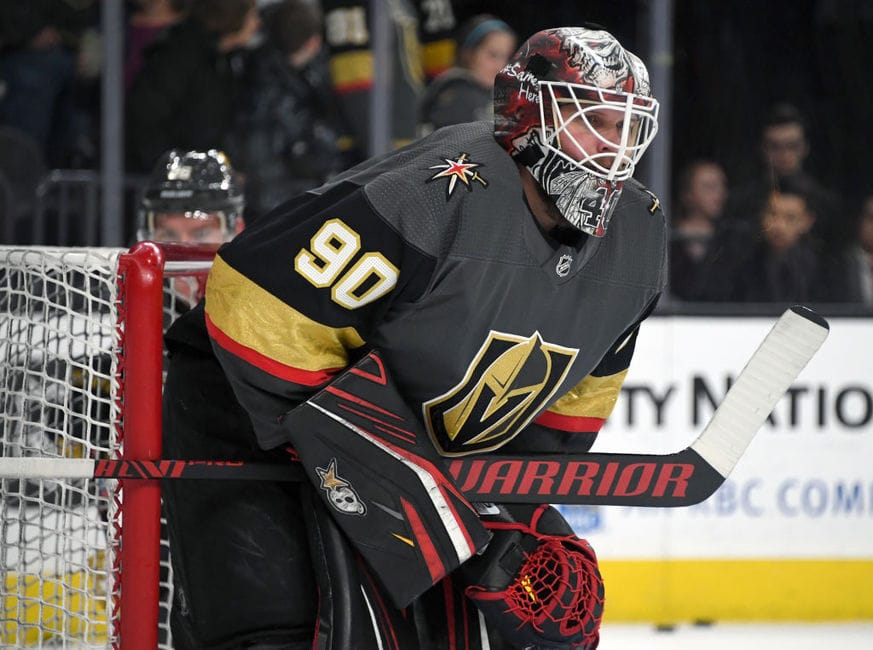 The Golden Knights already had a star goalie in Marc-André Fleury, so it was puzzling to see them making a push for the Swedish stalwart. Fleury had put up impressive numbers over his first three seasons in Sin City, registering an overall goals against average of 2.51, a save percentage of 9.15 and backstopping 91 wins. The numbers don't lie, but at 35 years of age and concerns about past injury history, the Golden Knights' front office felt it was time to go after another number one goalie.
So, on Feb. 24, 2020, Vegas pulled the trigger and acquired Robin Lehner, sending struggling goalie Malcolm Subban, defensive prospect Stanislav Demin and their 2020 second-round pick (Drew Commesso) to Chicago, while also sending the Toronto Maple Leafs a 2020 fifth-round pick (Kasper Putio) to retain some of Lehner's salary.
Lehner got acquainted quickly in Vegas, posting a 3-0-0 record for the last three regular season games and guiding the Golden Knights to the Conference Final. Vegas locked him up to a five-year contract in the offseason and it is safe to say they have found one hell of a goalie to backstop their success in the future.
4. Division Clinching Win
The Golden Knights' final game before the NHL shut down it's operations due to the COVID-19 pandemic was March 9, 2020, a 3-2 win over the Edmonton Oilers that would prove to be crucial to the Golden Knights and their playoff schedule. Not only that, but it secured them their second Pacific Division title in three years.
This game would prove to be the difference between playing three warm-up games against the St. Louis Blues, Colorado Avalanche and Dallas Stars, and facing Jonathan Toews and the Blackhawks in the qualifying round. If the Edmonton Oilers would have defeated the Golden Knights in regulation, Edmonton would've claimed first place by ways of a regulation tiebreaker. Since, the Golden Knights clinched first, they were awarded a "bye," for lack of a better word, while Edmonton had to face Chicago in a "best of five" series in order to book their ticket into the playoffs.
As you know, the Oilers ended up being ousted by the Blackhawks in upsetting fashion. The world is full of "what-if's?" but the biggest one from last season may be what would have happened if the Golden Knights dropped that fateful game March 9. We'll never know, but it's safe to say everything worked out in Vegas' favour.
3. Clinching First Seed in the Bubble
NHL fans were dealt a surprise when the NHL announced a new playoff format for the subsequent "bubble" the teams would participate in. Twenty-four teams were going to participate, with the top four seeds for the playoffs in each conference determined by round-robin in the qualifiers. 
Seeing as the Golden Knights were a top seed in the West, they would play three qualifying games, facing the Stars, Blues and Avalanche, respectively. Having won their first two games against, Vegas was primed to sweep the qualifiers in their final battle with the Avalanche.
The game started off slow, with a scoreless first period. Vegas would eventually break the deadlock at 1:34 of the second period when Jonathan Marchessault tipped in a Shea Theodore point shot on the power play. From there, a game of back and forth ensued with Vegas regaining the lead and Colorado tying the game back up at three goals apiece until the regulation buzzer sounded. That meant one thing — overtime.
Alex Tuch had just gone through a dip in production during the 2019-20 regular season, registering just 17 points in 42 games. No one needed to prove themselves more than he did — boy, did he deliver. With just 16 seconds left in overtime Tuch sealed Colorado's fate and delivered a 4-3 overtime win to the Golden Knights, securing a perfect 3-0 record in the qualifying round and clinching the first seed in the playoffs for Vegas.
2. Big Name Signing
The NHL was abuzz when it was made clear that Alex Pietrangelo would not be re-signing with his beloved Blues, a team he spent his entire career with, delivered the franchise's first Stanley Cup and captained for four seasons. The Blues signed Torey Krug to a lucrative contract, which was the final domino to fall in their negotiations with Pietrangelo. The Krug signing was an indicator that the team was ready to move on — now their former captain had to find a new home.
One thing we learned this offseason was that finding a new home is not hard when you are one of the league's top defensemen, a proven winner and a leader of men. Pietrangelo was a consistent provider in St. Louis, registering four seasons of 50 points or more and another four seasons of 40 points or more during his 12-year career. With numbers like that, it was easy to see why a good portion of NHL teams were keen on signing the defensive anchor.
Then, on Oct. 12, 2020, Pietrangelo found his home for the next seven years. The Golden Knights had signed the former Blues captain to a wealthy seven-year, $61.6 million contract that carried an average annual value of $8.8 million.
The Golden Knights already housed a scarily good defensive corps before Pietrangelo. With his addition, the Golden Knights not only acquire a proven player and winner, but also someone who can be a catalyst in the finals games of playoff rounds. Only time will tell if he can replicate his successes from St. Louis, but either way, the Golden Knights just got even more fun to watch.
1. Reaching the Conference Final
No other expansion team in the NHL has enjoyed the success that Vegas has during their first three seaons in the league. It's hard to one-up a team that made it all the way to the Stanley Cup Final in their first season. It was no fluke, either, as Vegas dominated that season, clinching the Pacific Division and dominating their playoff rounds versus western opponents. Still, the Cinderella story was cut short by none other than Alex Ovechkin and the Washington Capitals.
With a Stanley Cup Final appearance under their belt, Vegas was primed to return to battle for Lord Stanley's Cup. They even went out and acquired big-name offensive weapons such as Mark Stone and Max Pacioretty. Still, even with these additions, Vegas saw their playoff hopes dashed in the first round of the 2019 Playoffs, a disappointing conclusion for a team that looked like they could win it all.
With a first-round exit behind them, the Golden Knights now knew the feeling of being winning underdogs, as well as losing favourites. Heading into the 2019-20 season, confusion surrounded this team. Where would they go from here? Well, they decided to re-establish their winning ways and prove to everybody they had what it takes.
They clinched the first seed in the West in the "bubble" playoffs, and easily beat the Blackhawks in the first round. Their next opponent would be the the Vancouver Canucks, a team that surprised many during the playoffs. The Canucks proved to be not only a surprise to the Golden Knights, but also a thorn in their side.
Vancouver played hard and, at times, looked like they wanted it more than Vegas did, but the Golden Knights weren't going to leave early once again. In a deciding Game 7 to determine who would be facing the Stars in the Conference Final, Vegas played some of its finest hockey and won by a score of 3-0, shutting out their counterparts from Western Canada.
This valiant effort booked the Golden Knights a ticket back to the semifinals, where they were ousted by Dallas in five games. Even though they came short, Vegas always knows how to put on a show for their fans. With solid additions to the entire team for the upcoming season, look for the Golden Knights to make a splash and turn a few heads come playoff time.
Onto Better Things
With a new year upon us, endless possibilities engulf the minds of hockey fans for the upcoming season. With so much to look forward to, I cannot wait to see what happens and what will make my Top 5 list next year.
What do you think? What were some great Golden Knights moments that stood out to you this past season? Let me know in the comments below!
---
---