The Calgary Flames still can't win on opening night, not even with a two-goal lead. But the start of the 2020-21 NHL season portended good things for two East Division rivals, the New York Islanders and Washington Capitals, and showed why the Minnesota Wild eagerly awaited the arrival of Kirill Kaprizov.
The Flames dropped their 11th consecutive opening game on Thursday when they couldn't hold a two-goal lead and lost 4-3 in overtime to the Winnipeg Jets at Bell MTS Place. Calgary is 0-9-2 in its first game of the season since defeating the Vancouver Canucks 5-3 on Oct. 1, 2009.
Calgary's 11 games without an opening-night victory are one shy of the NHL record; that dubious mark is held by the Detroit Red Wings, who had eight losses and four ties in a span of 12 seasons from 1982-83 through 1993-94.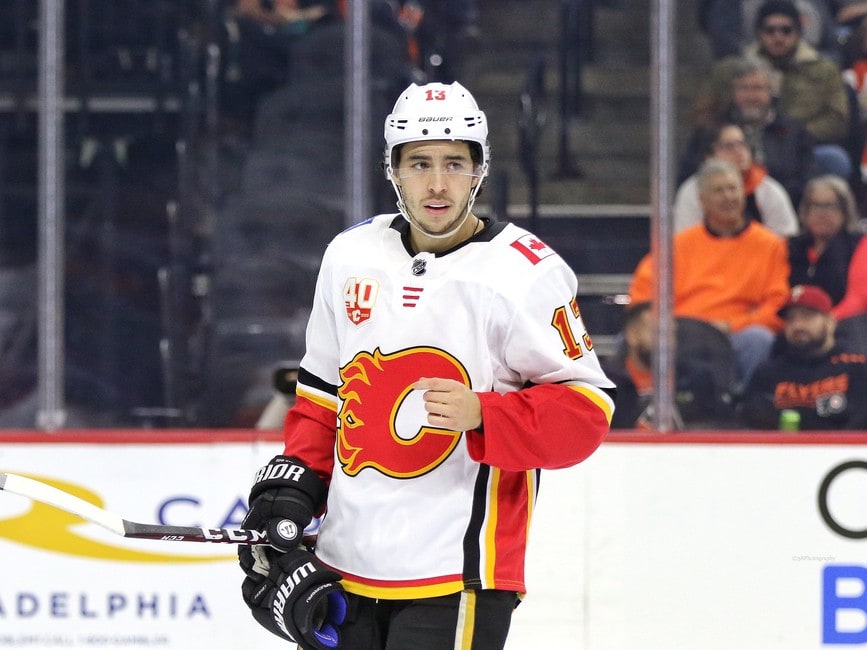 Not even the arrival of goalie Jacob Markstrom helped. Calgary's big offseason acquisition made 30 saves in his first game since signing a six-year, $36 million contract but was beaten by Patrik Laine for the game-winner.
Islanders Post Rare Shutout at Garden
The Islanders began their season with a double rarity – an opening-night shutout, something they'd done exactly once since entering the NHL in 1972, and a shutout at Madison Square Garden (MSG), something they'd achieved only twice before.
The visitors also spoiled the NHL debut of No.1 draft pick Alexis Lafreniere with a 4-0 win in Manhattan that gave coach Barry Trotz his 11th victory in a season-opener; only Scotty Bowman (17), Dick Irvin (12) and Ken Hitchcock (12) have more.
Semyon Varlamov made 24 saves for the first shutout on opening night by the Islanders since Glenn Resch was in goal when they defeated the Philadelphia Flyers 3-0 at the Spectrum to begin the 1976-77 season. It was their first shutout at MSG since Jan. 13, 2015, when Jaroslav Halak was in goal for a 3-0 win. That came nearly 40 years after Billy Smith made 26 saves in a 3-0 victory on Dec. 17, 1975.
Backstrom, Ovechkin Reverse Roles for Capitals
Nicklas Backstrom became a goal-scorer on opening night for the first time in his NHL career, helping the Capitals extend their season-opening point streak to seven games (5-0-2) with a 6-4 win against the Buffalo Sabres at KeyBank Center.
Backstrom entered the game with 14 opening-night assists, the most of any active player — but no goals. That changed 5:43 into the first period when he popped home a feed by Alex Ovechkin for the game's first goal. Ovechkin, who entered the game with 11 goals in season-openers, the most among active players, didn't score but did finish with two assists.
John Carlson, who led NHL defenseman in points last season (75), got off to a fast start with a goal and an assist. It was Carlson's third straight multiple-point game on opening night, tying him with Ray Bourque (twice), Brian Campbell and John-Michael Liles for the second-longest such streak in NHL history. Gary Suter and Ron Stackhouse hold the record with four.
Bruins Finally Win Shootout
The Boston Bruins did something in their season opener against the New Jersey Devils that they failed to do all of last season, when they took home the Presidents' Trophy as the NHL's top team in the regular season: They won a shootout.
Brad Marchand scored in the bottom of the third round in the tiebreaker to give the Bruins a 3-2 win at Prudential Center. After Tuukka Rask stopped two breakaways in overtime and denied three New Jersey shooters in the shootout, Marchand beat Devils' goalie Mackenzie Blackwood for the win, Boston's first in a tiebreaker since defeating the Vegas Golden Knights 3-2 on Feb. 20, 2019.
Despite being the only NHL team to finish with 100 points in the coronavirus-truncated 2019-20 season, Boston was 0-7 in the shootout. Overall, the Bruins had lost eight in a row.
Marchand's deciding goal was a rarity for him — it was just the third of his career, which is now in its 12th season. Overall, he's 10-for-45 (22.2 percent) in the tiebreaker; the NHL average is about 31 percent since the shootout was implemented for the 2005-06 season.
Kaprizov Worth the Wait for Wild
The Wild waited more than five years for the arrival of Russian forward Kirill Kaprizov after selecting him in the fifth round (No. 135) of the 2015 NHL Draft. He needed just one night to show why they were so eager to get him into the lineup.
Kaprizov became the first player in Wild history to have three points in his NHL debut when he scored on a breakaway with 1:13 remaining in overtime to give Minnesota a 4-3 win against the Los Angeles Kings at Staples Center. Karpizov also had two assists to help his team overcome a two-goal deficit in the third period.
In addition, Kaprizov became the third player in league history to score an overtime goal in his first NHL game. Bonus points if you know the others: Nick Knott of the Brooklyn Americans in 1942 and Tim Sweeney of the Flames in 1990-91.
---
---