The Columbus Blue Jackets have become the NHL's hottest soap opera featuring an epic standoff between Pierre-Luc Dubois and John Tortorella. Dubois wants out of Columbus. Tortorella is openly not happy about it, so a toxic environment has ensued.
Fans want to blame Dubois for creating this situation, but Tortorella's system and history tell another story. His system of developing young players with a whole lot of conflict is at a crossroads. He had a choice to either dig in his heels and stick to his brash system or evolve. He chose to dig in his heels instead.
Tortorella Benches Dubois Against Lightning
Thursday night against the Tampa Bay Lightning, Tortorella decided to bench Dubois after an unenthusiastic shift with a little over four minutes left in the first period. Dubois ended up finishing with only had 3:55 of ice time. This came a few days after Tortorella told the press they would know when he benched the disgruntled center. After the game, Tortorella said, "told ya," and it was up to the player's performance to determine their minutes. The benching didn't provide much of a spark within the Blue Jackets, as they lost 3-2 in overtime.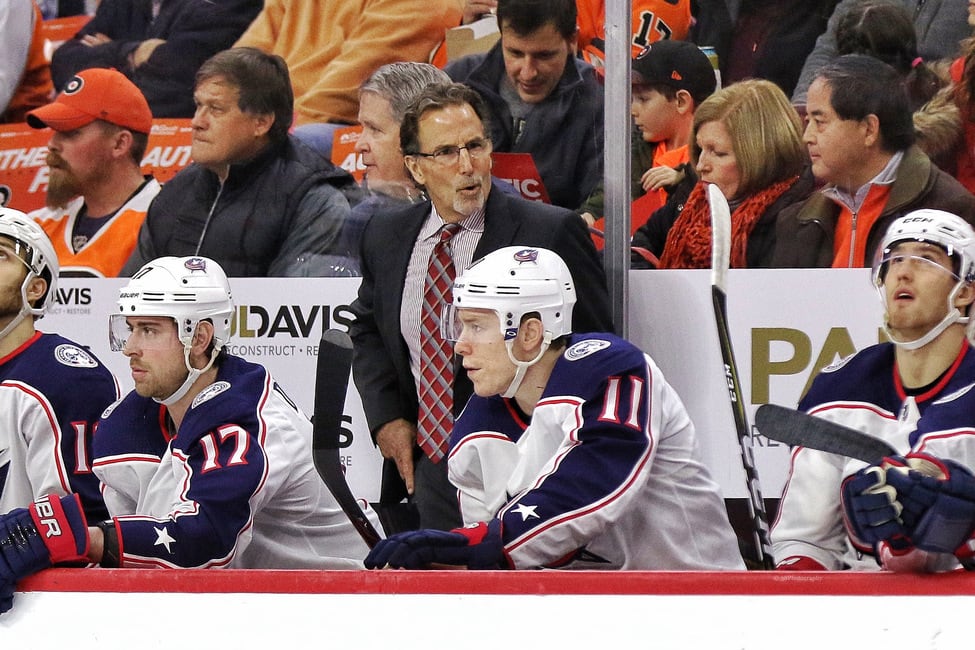 If Tortorella is trying to convince us that everything is fine, he's doing a pretty poor job. Benching Dubois to punish him made the situation more toxic than it needed to be. Three lazy minutes is not enough time to change a coach's mind. General manager Jarmo Kekalainen has not committed to making a trade this season, nor has he seemed in a rush to get Dubois out of Columbus.
The relationship cannot be salvaged now. What makes Tortorella think players are going to want to come play for him if he's just going to humiliate them when things go wrong? Trying to prove the point that he is the top dog creates resentment, not respect. It still didn't solve the problem that the Jackets have only won one game this season.
Dubois' Lack of a Reason
Nobody knows the true reason why Dubois wants out. Tortorella criticized his star center for not being more honest about the reasons why he wants to leave the Jackets. Ironic now, considering he didn't want to talk about Dubois' benching last night. He also speculated if his coaching style, which heavily relies on "conflict," was at the root of the problem.
"Sometimes these players, especially today's athletes, think 'you're too hard on me, you're picking on me,' and this and that. Maybe it's too hard for him. I don't know."
Tortorella does know he is part of the problem; he just doesn't want to admit he has to change. Yelling at players might have worked in the past, but with a new generation of players, you have to adapt to the times.
Blasting Dubois on national television for making a mistake didn't help his development; it made him want to get out of town (from 'Blue Jackets coach John Tortorella explains his frustrations with Pierre-Luc Dubois,' Columbus Dispatch, 08/07/2020). I wouldn't want to play for a coach who believes verbally assaulting me is key to my development.
If Tortorella truly wants to develop a player, he should be talking to the player in private and trying to come to common ground. Instead, he decides to teach his players lessons for the whole world to see. His refusal to reevaluate himself could have a trickle-down effect on his other players, which we have seen in his past.
Similar to Tortorella's Rangers Tenure  
Look no further than Tortorella's tenure with the Rangers to prove the act gets old. One of the reasons the New York Rangers fired him was because the players got tired of the brash, aggressive act. It was no secret Henrik Lundqvist didn't want to sign with the Rangers long term if Tortorella was still the coach.
Tortorella would get in heated arguments with Rangers' forward Marian Gaborik while going over tape. He even soured old relationships like his one with Brad Richards, with who he won his only Stanley Cup with in Tampa Bay. He was shocked the Rangers fired him after the 2012 Playoffs, but the writing was on the wall.
It hasn't gotten that far in Columbus yet, with the players insisting there is no drama. They might not be verbally saying anything, but they aren't playing like a team that is unbothered. The offense production is not there, as they're averaging 2.0 goals per game, ranking 28th in the NHL.
Related: Blue Jackets Searching For Offense
The team's core hasn't fared well. Seth Jones, Zach Werenski, Cam Atkinson, and Nick Foligno have a combined three points this season. It's getting late early in Columbus. And Tortorella has to decide if teaching Dubois a lesson is worth losing his locker room. History is not on his side.
---
---