In today's NHL rumors rundown, with the sudden resignation of general manager Jim Rutherford on Wednesday, what's next for the Pittsburgh Penguins? Who might be a long-term GM candidate? Meanwhile, could the Boston Bruins be thinking about moving a forward and if so, when will they do so? The St. Louis Blues have been in the rumor mill because of a potential Vince Dunn trade, but is that the only cap move the team will make? Finally, how content are the Toronto Maple Leafs with their current goaltending situation?
What's Next for Penguins After Rutherford Resignation?
Rutherford choosing to step down as the team's GM on Wednesday caught a number of people by surprise. Fortunately, early reports were that his leaving was not a health issue, but more a decision to make a change and take a break. TSN's Frank Seravalli notes the former GM and the team are still on good terms and Bob McKenzie reported that this does not mean Rutherford is gone from hockey for good.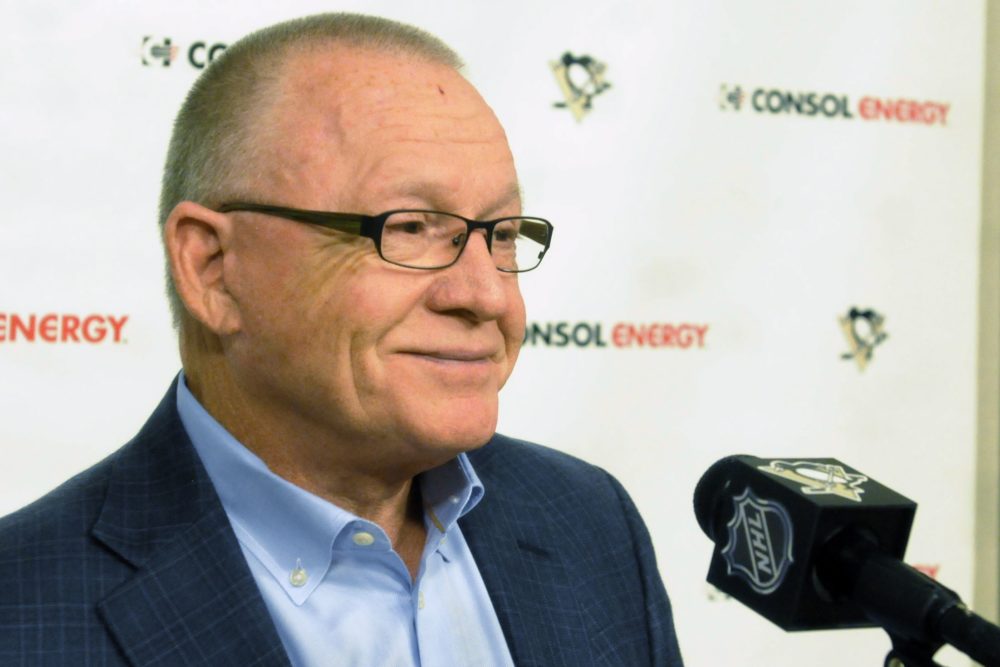 Ken Campbell of the Hockey News and SI.com writes that Rutherford told him it was simply "time to take it easy," and use the rest of this season to decide if he'll return to the NHL with a different organization.
Sean Gentille of The Athletic has already looked at some names that could be in the running to replace Rutherford long-term and there are quite a few people in the mix. He actually broke the candidates down into four different groups:
Mario Lemieux Connections – Pat Brisson, Tom Fitzgerald, Pierre McGuire, Marc Bergevin, and Jason Botterill.
The Rutherford Types – Ron Hextall, Peter Chiarelli, Dean Lombardi and Mike Gillis.
Up and comers – Patrik Allvin, Chris Drury, Chris MacFarland and Kevin Weekes.
The Bill Zito Tier – Laurence Gilman, Mike Futa and Scott Mellanby.
Gentile quoted Penguins president and CEO David Morehouse when he noted:
"The criteria is the same criteria we've had here for the last 15 years: To win the Stanley Cup. So we're looking for someone that is gonna be able to come in, take a very talented team with a very good coaching staff and take it as far as they can take it."

source – 'Penguins GM search tiers: Four types of replacements for Jim Rutherford' – Sean Gentille – The Athletic – 01/27/2021
Related: Canadiens' Gamble on Stanley Cup-Winning Leadership Pays Off
Bruins to Shop Bjork?
Joe Haggerty of Boston Hockey Now believes trading Anders Bjork would make a lot of sense for the Bruins. That said, if the team entertains the idea, they'll wait for winger David Pastrnak to return, as well as for sidelined wingers Jake DeBrusk and Ondrej Kase to recover from recent injuries.
The Bruins have a depleted lineup, but as soon as players are healthier, Bjork might be squeezed out of the regular lineup and Haggerty notes there are teams keeping an eye on the forward. Bjork has speed and can be used in multiple situations, but he hasn't quite turned into the scorer the Bruins thought he might.
Blues to Make Cap Move?
Jim Thomas of STLTODAY.com expects the Blues will make a salary cap move sometime in February and just before winger Vladimir Tarasenko returns from shoulder surgery. That could be the Dunn trade and/or it could be something else. The Blues placed Tarasenko on long-term injury reserve to start the season but the team will need sufficient cap space to get him back on the active roster.
As we reported yesterday, multiple reports have Dunn on the trade block but any return is likely not going to include salary coming back to the Blues. Instead, with their limited cap space, they'll shoot for a high-end draft pick. Teams that could be interested in Dunn and need a defenseman are the Philadelphia Flyers, Vancouver Canucks and Winnipeg Jets. These teams also have first and second round draft picks they could move in any deal.
In other Blues news, the game between the Vegas Golden Knights and Blues slated for Thursday has been postponed as result of another player and another member of the Golden Knights coaching staff entering the NHL's COVID protocols. Golden Knights GM Kelly McCrimmon had to serve as head coach during Tuesday's game while his entire coaching staff was forced to isolate.
Related: Seattle Kraken Goalie Targets for Expansion Draft
Are the Maple Leafs Content with Hutchinson as Backup?
With the news that goaltender Jack Campbell has been injured, is there a plan by the Maple Leafs to make any changes to their netminding situation? Based on comments by head coach Sheldon Keefe, it doesn't appear so.
Frederik Anderson has looked a lot more consistent in net early on and Keefe recently noted that Michael Hutchison has improved and is much more confident than the last time the Leafs had him as part of their organization. Keefe said, "Only one player on our roster was winning games in the second round of the playoffs last year, so I think he's coming in here with a different level of confidence."
For now, Hutchinson will continue to serve as the backup goalie. He went 2-1-0 with a 2.75 GAA & .910 SV% for the Colorado Avalanche in the 2020 playoffs.
Catch up on all the latest NHL Rumors